My Favorite Holiday Foods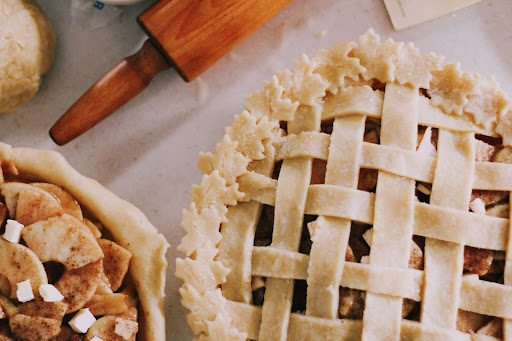 The holiday season is a wonderful time of year. Warm fires, comfy sweaters, and delicious smells are everywhere. The thought of a holiday feast is one that families can look forward to all year. Baking the food can be even more enjoyable than the meal itself for some people. Here are some of my favorite holiday foods that will certainly be on my family's table.
Pumpkin Bread with Cream Cheese Filling
I made this bread this past Halloween, and it barely lasted a week! It's a warm, soft pumpkin bread that has a layer of filling in the middle and on top. Being a sweet bread, I could not decide if it would fit best as a dessert, appetizer, or something else, so I made it everything! It made a delicious breakfast on days I was running late, and a rich side for a meal. 
Molasses Cookies
Molasses cookies are amazing, but rarely do I hear people mention them among their favorites. They come out of the oven perfectly soft, and if left out they get a nice crunch. Rolling the dough in some cinnamon sugar helps give it a sweet taste! 
My favorite thing about these cookies is watching them crumble after being baked. They form beautiful designs while cooling. For those who like aesthetically pleasing foods, these cookies are great for adding some darker color to a dessert table. 
Turkey Stuffing and Gravy
Stuffing and Gravy are classic foods for a Thanksgiving meal. My Great-Grandfather, "Grampy Jones," worked as a chef at the Towne Line Restaurant in Lynnfield. My mother's family used to order their dinner from there for Thanksgiving. It has since been torn down and has been replaced by Spinelli's. 
When My Great-Grandfather retired he gave my Grandmother some of the recipes. The turkey stuffing and gravy we make each year comes from that restaurant. It has since become a nice family tradition. 
Pecan Rolls
The Towne Line was also known for its pecan rolls. Pecan rolls are very similar to cinnamon rolls, although they are topped differently. Instead of a white glaze, pecan rolls are topped with a sugary maple topping and pecan pieces. These rolls are one of my family's favorite recipes. Once Thanksgiving rolls around, we enjoy them for breakfast and as quick snacks until they run out. 
A little advice, however. When making pecan rolls, make sure you place an extra tray in the oven to catch anything that drips over the edge. One year our oven caught fire because so much spilled over!
Chicken Corn Chowder
This chowder is a staple of the cold season every year in my house. It's warm, creamy, and has a colorful assortment of vegetables. Along with the obvious corn and chicken, it has peppers, fresh thyme, potatoes, and onions. It is perfect for a chilly day!
Nissu
My family is Finnish, and this is one of our traditional recipes. It is a Finnish braided sweet bread made with cardamom and topped with a glaze. We bake this bread at almost every holiday and occasional birthday celebrations. We give loaves to family and friends as gifts and they always love it. My favorite way to enjoy nissu is warm with butter for breakfast. It's not exactly nutritional, but it's worth it. 
Lanttu
Have you ever eaten turnip? This is another Finnish recipe for a turnip casserole. Technically, the name of this dish is "lanttulaatikko" but we call it lanttu. It is made by boiling and mashing turnips and is topped with a layer of breadcrumbs. The breadcrumbs add a sweetness that makes the turnip delicious. 
A note from experience, however: make sure the turnip is very well mashed or else the casserole will be chunky and firm. Texture can make or break any dish, but especially one that only has one food. The more effort you put in, the better it will be!
Mini Pumpkin Pies
I personally am not a fan of pumpkin pie. It's just a little bit too pumpkin-y. With mini pumpkin pies, the filling-to-crust ratio is perfect! I have a recipe that uses a pumpkin stencil, so the plate of pies can make for a cute statement piece on a table! They are single-serving, so there is no worry about slicing the pie evenly. Topping these mini pies with an egg wash helps create a beautiful golden-brown finish.