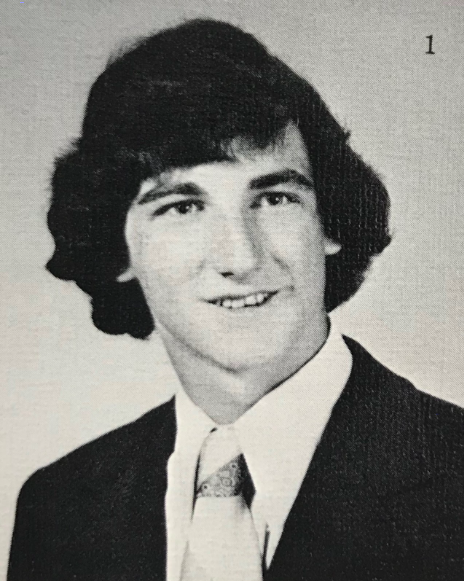 "Political, okay student, interested,": three words Mr. Stevens uses to describe himself in high school.  He graduated from Pentucket High in 1974 and he now teaches AP History as the head of the history department.  He became fascinated with history in high school, explaining that "there were a lot of good history teachers and there was a lot going on politically in the world.  It was the end of the Vietnam War, there was the Watergate Scandal when I was a senior and the whole Nixon resignation.  I was really into politics, which took me into history classes."  Mr. Stevens' aspirations included a field in politics, possibly campaigning, and he "didn't expect to be a teacher at all."  
In high school, Mr. Stevens was involved in many extracurriculars.  Mr. Stevens played basketball in high school, although he says he "wasn't very good at basketball, I rode the bench a lot, but I had a lot of fun, I liked playing basketball."  Although Mr. Stevens wasn't a jock, he spent a lot of his time in current event clubs and student government.
Along with his high school sports career, Mr. Stevens touched upon an odd tradition that used to exist at Pentucket.  The junior and senior classes used to have a fight over a flag.  Similar to capture the flag, the juniors and seniors would hide a flag and the opposing class would look for it.  This game got out of control because violent outbursts occurred, and it became dangerous.  Mr. Stevens' class decided to end this tradition because they did not want it to get out of hand.  Football was very important at Pentucket in the 70s.  In Mr. Stevens' junior and senior year, the team won the Cape Ann League Title.  "Masco was the rival for the Thanksgiving game.  The kids from Triton actually came to Pentucket as freshmen while their school was being built, so it was kind of interesting that they became our rivals the year after I graduated," Mr. Stevens said.   
Today at Pentucket, students have homecoming, prom, Sadie Hawkins and winter white out, however, there were not as many dances in the 70s and they were not as hyped up as they are now too.  Mr. Stevens says, "There were no limos at prom, for a lot of people it was a big night, you got your parents' nice car, it wasn't like it is now.  The junior prom might have even been at the school, in the gym, but I don't remember that for sure."
Mr. Stevens came back to Pentucket when he was 30 years old.  After he had a career in business and politics, he realized that he wanted to be a teacher: "I realized that I really liked teaching and I liked history.  Even after I left school, I was always reading history.  So I went and got my teaching license.  A job opened up at Pentucket, and I didn't get it.  It wasn't until a couple years later that I got the job here.  I got rejected for my first job here, which is kind of funny."