Saint Patrick's Day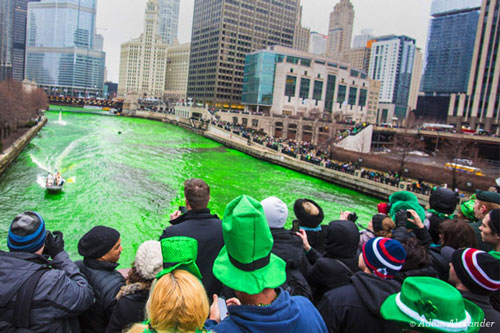 St. Patrick's Day is a sacred holiday to many people, not only those who live in Ireland,  but also people around the world, and features a great amount of celebration.
St. Patrick's Day is celebrated annually on March 17, the anniversary of St. Patrick's death in the fifth century. On St. Patrick's Day, which falls during the season of Lent, Irish families would traditionally attend church in the morning and take the afternoon to celebrate the holiday. The Irish have seen this day as a religious holiday for over 1,000 years.
The holiday is based on Saint Patrick, who lived during the fifth century and is the patron saint and national apostle of Ireland. Born in Roman Britain, he was kidnapped and brought to Ireland as a slave at the age of 16. He later escaped but returned to Ireland and was credited with bringing Christianity to its people. In the time following Patrick's death, the myths surrounding him became a great influence on Irish culture.
It was Irish immigrants, going to the United States, who transformed St. Patrick's Day into a well-known American holiday and collection of Irish traditions. Boston held its first St. Patrick's Day parade in 1737, followed by New York City.
More than 100 St. Patrick's Day parades are held across the United States; New York City and Boston are home to the largest celebrations.
The first parade held to honor St. Patrick's Day took place, not in Ireland, but in the United States. On March 17, 1762, Irish soldiers serving in the English military marched through New York City. In 1848, several New York Irish Aid societies decided to unite their parades to form the official New York City St. Patrick's Day Parade. Today, that parade is the world's oldest civilian parade and the largest in the United States, with over 150,000 participants.
In celebration of St. Patrick's Day, Chicago, IL has an annual dyeing of the Chicago River. The practice started in 1962. At that time city pollution-control workers used dyes to trace illegal sewage discharges and realized that the green dye could be an interesting way to celebrate the holiday. They released 100 pounds of green vegetable dye into the river, which kept it green for a week. Today, only 40 pounds of dye are used, and the river turns green for several hours.
According to History.com St. Patrick's Day was traditionally a religious occasion. Up until the 1970s, Irish laws stated that pubs be closed on March 17. Beginning in 1995, however, the Irish government began a national campaign to use St. Patrick's Day to drive tourists and promote the Irish culture. Approximately 1 million people annually take part in Ireland's St. Patrick's Festival in Dublin today. It is a multi-day celebration featuring parades, concerts, and outdoor theater productions, as well as firework shows.
St. Patrick's Day is also about traditions. Things like the shamrock and traditional music have more importance to the holiday than one may think.  
The shamrock [also known as the seamroy] was a sacred plant in ancient Ireland because it symbolized the rebirth of spring. England seized Irish land and made laws against the use of the Irish language and the practice of Catholicism. Many Irish began to wear the shamrock as a symbol of their pride in their heritage as their country seemed to no longer be their own.
A fact that many people may not know is that the color traditionally associated with St. Patrick was blue, not green.
Music is often associated with St. Patrick's Day, as well as Irish culture in general. After being conquered by the English, and forbidden to speak their language, the Irish turned to music to hold on to their history.
The Leprechaun is another major part of St. Patrick's Day traditions. The original Irish name for these figures of folklore is lobaircin, meaning small-bodied fellow. Belief in leprechauns probably stems from Celtic belief in fairies. In Celtic folktales, leprechauns were unhappy souls, responsible for mending the shoes of the other fairies. They often used trickery to protect their treasure: gold.
A close family friend of mine traveled to Ireland a few years ago. Although it was not during Saint Patrick's day, I have learned that she found it to be an incredible experience when speaking about it. After finding out more about her experience, I knew that there was more to Saint Patrick's Day and Ireland than I once thought. It is diverse and filled with a great deal of history and is definitely worth learning more about.
Sources:
https://www.history.com/topics/st-patricks-day/st-patricks-day-symbols-and-traditions
https://www.britannica.com/topic/Saint-Patricks-Day