J-Popping and J-Rocking Time!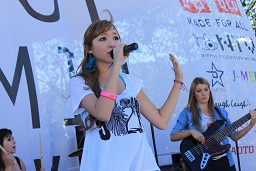 Most of us are familiar with genres of music like Pop, Rock, Rap, etc. Though, there are some genres of music that probably none of us really listened to before. While everyone is listening to the new hit from One Direction or Beyoncé, some students are listening to Japanese music.
Japanese music has not been popular in the states like Korean music has, but there are people who listen to it and enjoy it, like myself.
Sure, many people are turned off by it because they can't understand the words. That can be fixed easily because searching for lyrics on google will provide a translation. It's a small sacrifice to listen to great music.
The beat of the music is great and the lyrics are really catchy, which is why most people are interested in the songs. They also have replay value.
Some suggestions I have are the band Spyair, One Ok Rock, Idoling, Supercell, Funkist, and Bump of Chicken. Most of these can be searched on Youtube and can be listened there. Though Pandora has a J-pop and J-Rock stations if you search for them.
Leave a Comment