Coach of the Month: Leary – The Man, The Myth, The Legend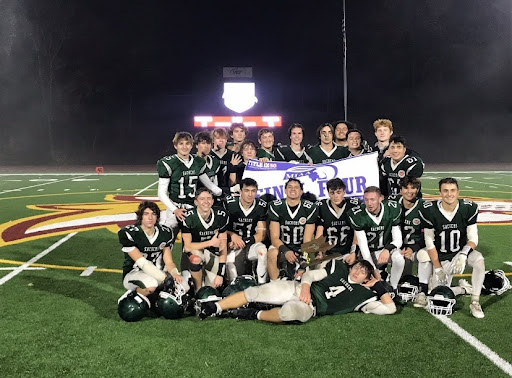 Coach Leary has led the Pentucket Football team to an amazing season, and they aren't done yet. 
If you were to ask any member of the program, they would make it clear that Leary truly cares about each and every one of his athletes. 
When Caleb Meisner, a member of the Varsity football team here at Pentucket, was asked about the impact that Leary has made on his life, he stated "No matter what the income is, he knows what to say to keep his players optimistic. It helps me as a player to know that he believes in us and puts his confidence in you when you get on the field." 
He also coaches senior Donovan Rivers, when asked about what coach Leary expects he said that "He is intense, but very helpful." He talked about how he expects a lot, but as seen from their exceptional season, it's all paying off.
Joel Spaulding, a member of the JV football team here at Pentucket, had kind words to say about Leary as well. When asked about the impact Leary has on the program ,he said, "I don't really get coached by him that much but I really appreciate his attitude on and off the field." The impact Leary has on everyone he encounters is something that will forever be a special part of who he is. 
Leary has touched numerous lives not only through football, but as a gym teacher as well. He is one of the most welcoming teachers here at Pentucket, just ask senior Jacob Wright. When asked what he appreciated most about Leary, he answered "Coach Leary has shown me how important it is to be nice to other students. He is a very caring and humble individual." Leary has shaped Wright into the person he is today and has helped him make many friends along the way.
He has significantly impacted my life as well. When I was a freshman, I would have never expected to love gym class as much as I did;. More importantly, I could have never imagined how social it would make me. I vividly remember being very timid the first week of school, but gym class was the first place where I was able to open up and be myself and I don't think Leary truly knows the difference he has made in my life. Leary is so much more than a coach and a gym teacher as there are no words to describe how much he truly touches the lives of everyone who he encounters. He has turned me into the person I am today and I can't thank him enough for that. He continues to leave an amazing legacy not only in sports, but throughout the entire Pentucket community.