AstroWorld Festival Gone Wrong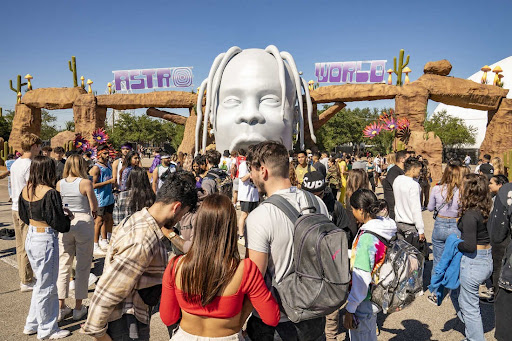 On November 5th, Travis Scott held an AstroWorld Festival. Over 50,000 people sprinted to the front as Travis Scott started performing. This caused a crowd surge; one huge mosh pit in all directions. As the crowd progressively got worse, Scott progressively got more intense. After ignoring people approaching the problem, he continued to sing "You all know what came to do. Let's make this ground shake," as you hear the concert goers screaming for their lives. People were piling up, as others trampled over them, and they started to suffocate. Yet, Scott still proceeded with the concert. Videos posted by concert goers show Travis looking unbothered/confused at the ambulance pushing through the crammed crowd.
8 were killed between the ages 14-27, and 25 of those people were sent to the hospital, most of them being under the age of 18. More deaths have been reported as the status of the health of the victims changed. A 9 year old boy was crushed and died, survivors of the incident came out to say they were all "scared for their lives," and some were left seriously traumatized. Many concert goers posted videos from the festival that became evidence in the investigation that was on its way.
Travis Scott and his team have been blame shifting with the Houston police and fire department. Scott says, "I had no authority to stop my performance at the AstroWorld Festival," according to Frobes.com. Some have said that some of his security staff quit because they were very inexperienced. Scott ignored the signs he saw of struggle in the audience. Scott went to Twitter, and Instagram and left embarrassing apologies. On his Instagram account, Scott posted a video apologizing for what happened. You can see so on his face and his demeanor; he knows he did something wrong. On his twitter account, his efforts were just as slim.
Scott's concerts are known to be extremely energetic , and sometimes deadly. He has faced criminal charges because he encouraged his fandom to try to override security, and enter the concert without a ticket. These events left security and police injured. This was bound to happen at one of his concerts, but it's so saddening to think so many children had experienced these events. The entire situation could have been prevented by stronger security, and overall respect. According to nypost.com, there were 755 security personnel, and 528 Houston police officers. Seeing Travis Scott's behavior in the past, this festival should have been a red flag from  the start.
108 lawsuits were filed after the court was closed on Friday. People were sued for wrongful death and sexual assault. Drake and management have faced multiple lawsuits as well for their contribution to the event. People on the internet have made jokes and conspiracy theories about the whole situation that have been completely insensitive to the families who are grieving. Lawsuits cannot fill the void of a loved one. Travis Scott, and clearly his fandom, have no care for human life and are completely ruthless. 
This tragic event is something I hope Travis Scott and everyone involved in that concert learns from. I hope our society grows to be more thoughtful to one another. This should have never happened, and I hope more than anything that it will never happen again. None of those people deserved to lose their lives the way that they did.