Pentucket Girls Basketball Couldn't Do It Without The Fans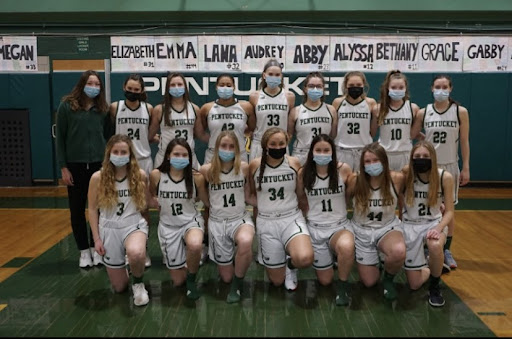 Last year, winter sports were the farthest away from normal they have ever been, Especially for Pentucket girls basketball. No fans were allowed, masks had to be worn at all times, and worst of all – the season was shortened. The list could go on forever, but the gist of it? It was dream crushing for the program and devastating to have worked so hard just to have the highlights of our season stripped away. However, it showed the program and the school our true love and passion for the sport and will only make this season more rewarding. 
Just ask Abby Dube, a junior, who has been a member of the Varsity team since her freshman year. After her not so normal sophomore season, she is very excited about many things coming with this upcoming sean. When asked about what she is looking forward to, she says that she "is most excited for the loud crowd." It is something that every member of the team has so deeply missed, and the fans are who truly make this team what it is.
Same with teammate Alyssa Thompson, who has also been a member of the team since her freshman year. She is excited to "play in front of a crowd again and feel the energy from all of our fans." It's simple really, last year was difficult beyond words. But for the girls basketball team this year, we will make this season one to remember.
However, even with COVID protocols in place, there were other challenges we had to overcome to even be allowed to play in our own home gym. The girls and boys programs came together and we protested outside the West Newbury Food Mart. We begged for the town to let us at least play – even after we were previously told that no spectators would be allowed in the gyms. 
We love our fans because the sad reality is that we may be one of the only female teams in Pentucket that get the support of the whole school. We work so hard everyday, and the fans that come to every game – home or away; and that in itself proves to us that our hard work doesn't go unnoticed. We couldn't be more grateful for the continuous amount of support this school pours into our team. 
If you asked senior Lana Mickelson, one of the captains this season, about her love for the sport and the team, she would say, "everyone pushes each other because we all know how capable each one of us is. It's a team that won't settle for anything less than the best." , which couldn't be more true. Every single girl on the team is so devoted to the sport and we couldn't ask for anything more. 
Lana and I are the last two in our grade playing basketball, and I wouldn't want it any other way. The bond that this sport has created between us is something that I wouldn't trade for the world. For me to be able to call us co-captains and friends is a relationship that I will cherish forever. 
I will never be able to put into words the amazing impact basketball has made on my life and to know that this is the end is heartbreaking. But I couldn't ask for a better team to finish it off with.