The Real Jon Holewinski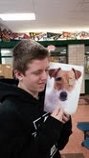 Crazy, hilarious, and uniquely bizarre. These are the words that come to people's minds when they think of Jon Holewinski.
For those of you that don't know Jon, he is a Merrimac native and a sophomore here at Pentucket. He is known for his goofy personality, wild shenanigans, and unpredictable antics. "I live the goofball life on the daily," said Jon in our recent interview. "I only take part in verbal pranks," he continued.
When asked about his family life Jon answered, "I have a dad named Jan, a really cute dog named Oreo, a sister without a name, JK her names Julia. I also have a wicked hot mom named Patricia."
Jon also seems to have some pretty interesting hobbies. He said he enjoys taking three day long baths. He also claims that he is both a retired police officer, and a retired artist.
Jon is also very musical. In the middle of our interview he would break out into song and start dancing. He even has his own raps on YouTube. When asked about his rap career he says, "I've been a rapper for about three years. My inspiration is Lil' B, cause he makes real music."
Jon is notorious around the school for his raps. Recently, he had a very successful release of a song he did with his rap group "Fresh Out of The Womb", or FOTW for short. The title of the track was "Eat Pizza", and the lyrics can be described as unique, creative, playful, and obscure. When asked about the success Jon answered, "It was a hot single. It contains every member of FOTW. We invested all the money we got from that song in swing sets."
When students were asked how they felt about "Eat Pizza", they all responded with praise. Sophomore Kelly Murray responded by saying, "You can't describe it in words. I don't understand it, but it makes me laugh. He's basically the next Beyoncé."
Junior Ian Davis called the song an "insane experience, which is both touching, and disturbing."
History teacher Mr. Hardy taught Jon freshman year. He remembers how Jon would sing a song he made called "Kenny Has Swag". It was all about a student here named Kenny Niven, and how he had swag. "The song was great, well, because Kenny does have swag," said Mr. Hardy. He remembers the whole class enjoying the song every time it was sang.
Students at Pentucket also have very fond memories of things that Jon has done here. Ian Davis says he will never forget the time Jon walked around C lunch wearing a dog mask, asking people to walk him.
The entire school loves Jon for his crazy personality, and his even crazier antics. Jon requested that the article be ended with this quote of his from our interview.
"God bless America."
Leave a Comment