Coach of The Month: Triple Threat Moloney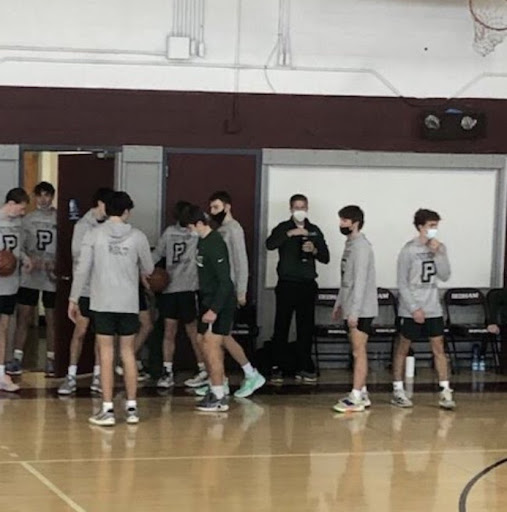 Coach Moloney truly does it all here at Pentucket; from the classroom, the field, and the court. He pours his heart and soul into every challenge he takes, and he really steps up to the occasion.
Over the past two years, it has been challenging for everyone, but exceptionally difficult for Moloney. He had to teach at the Middle School, and worst of all: give up coaching for a year when the COVID-19 pandemic hit. 
This year, Moloney is back and stronger than ever, with high expectations on, and off the playing field. 
Starting in the classroom, if you asked sophomore Ava Snyder, she would agree with these high expectations. Synder stated, "he expects you to get work done even when you are absent." Snyder is in Moloney's financing class, and if you fall behind, it is very difficult to get caught up. However, Moloney understands that people have things going on outside of school that can make getting things done difficult. 
Alongside the classroom, Moloney is also one of the DECA advisors this year. Seeing that Moloney teaches finance, it helps him translate these skills to Pentucket DECA students' projects and presentations. 
Next, to the football field. Moloney was a part of a "dream team" this fall with the Varsity football team having a 9-3 record, averaging a 75% win average. 
His dedication did not go unnoticed, just ask sophomore Caleb Meisner. When asked about Moloney, Meisner stated, "he knows what he's talking about and pays close attention to detail. He takes the time he needs to make sure his players understand new plays, concepts, and anything really." 
Meisner made it clear that Moloney does whatever it takes to make sure his athletes perform at their highest level, he just wants to see them succeed. 
Last, but not least, the basketball court. Moloney is the head coach of the Pentucket Boys JV team and assistant on the boy's Varsity team. He spends countless hours preparing to make his team the strongest it can be, and pouring his heart and soul into all of his athletes. If you asked freshman, Joey Costa, about his coach, he would say, "he is very passionate. Not only  about his athletes, but the sport itself." 
By now, it should be clear to see that Moloney puts his best foot forward in every challenge he tackles, and puts full faith in all his students and athletes.