Pentucket Boys XC Gets Top 5 At CALs: Without 2 Star Runners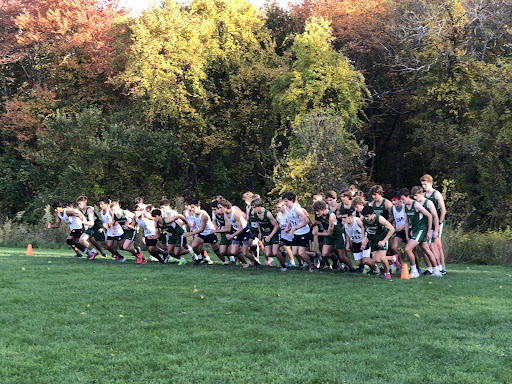 Everyone loves a good underdog story. A traditional David and Goliath battle, with an outcome that nobody expects. Last Saturday, October 29th, the Cape Ann League (CAL) Cross Country championship race was held in Wrentham Massachusetts, and one of these underdog stories occurred. 
A few days before the race, a major problem arose for two of the varsity runners. Pentucket seniors, Captain Jacob Zylinski and varsity runner Braeden Roche, ended up getting extremely sick. Captain Zylinski when asked about the sickness stated "It was like a heavy-weight battle, Ali vs Foreman, but instead of boxers it was me and sickness" Both runners ended up getting the flu. The flu would last for days and would end up eliminating them from competing at CALs.    
Without Zylinksi and Roche, the team presumed that the race was a lost cause. Cross Country is a sport that is heavily dependent on the top 5 runners, and without them, a race is usually lost before it starts.
Top runner Captain Seamus Burke, a senior, was asked how well he thought the team would do at CALs, "I expected us to be a non-factor, I thought it would be a bit of a blowout, and I didn't think we would do very well, I was nervous with our team's performance." 
Going into the race the entire varsity roster required a change. The previous six and seven runners needed to step up to the top 5 spots and run the race of their lives, a near-impossible task. Junior Logan Durocher and senior Matthew Beaulieu were the runners that moved up, and the team hoped for the best. 
At 3:15 the starting gun was fired, and the race was off. 63 runners shot off into the wide field of grass chasing the lead runner. 21 minutes later the final runner came across the line, which concluded the 2022 Cape Ann League Championship. To everyone's surprise, Pentucket finished in the top 5.  
Pentucket ended up beating North Reading, a team they previously lost to in the regular season. Pentucket also ended up 4 points away from beating Amesbury, a team that finished the regular season with a 4-1 record. 
This surprise performance was made possible by Pentucket's mid-pack runners. Senior Jack Fahey, junior Logan Durocher, and sophomore Colby Eckholt all stepped to fill the missing spots. 
Jacob Zylinski and Seamus Burke were both asked if they were proud of the team's performance.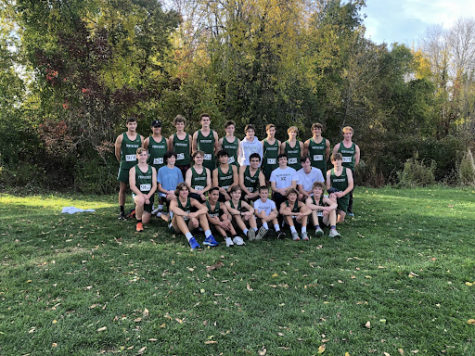 Zylinski smiled and responded, "Of course I was, we have a lot of great runners, and I knew that they would step up and fill my place."   
Burke stated, "I was pleasantly surprised with our results, our mid-pack really stepped up"                       
Honorable Mention Performances
Captain Seamus Burke secured a 7th-place individual finish in the CAL, and would also get a personal best of 17:14 for the 5k.
Freshman Owen McDonald ran a personal best of 19:13 in the JV race and finished 8th.
Captain Nolan Cole ran a season 5k best of 19:56.
Senior Alex Bessaoud ran a 5k personal best of 20:10.
Freshman Max Coppola ran a 5k personal best of 21:18.
Senior Bo Latham ran a 5k personal best of 22:16.