Beyond the Surface: A Deeper Look at the Impact of Injuries
Athletes are always worried about getting injured; the fear of broken bones and torn tendons loom over players in the hopes they'll stay healthy enough to at least finish the season. But how are athletes being affected by the actual process of being injured? Is the mental turmoil of getting hurt worse than the physical pain they endure? 
Colin's Story
Colin Rafferty is a junior at Pentucket. He was a football player on varsity before he dislocated his shoulder. He says, "Like a lot of football players when they get injured, they just feel like they can play but they can't and they just feel demoralized watching the people play above them."
Rafferty, unfortunately, will never be able to play football again. The harsh truth of athletics is that sometimes the issues of injuries may last longer than believed, only making the effects they have on mental health 10 times worse. Feelings of depression, anxiety, and loneliness can occur in an individual who wants to do something they just cannot do. Watching their teammates play when they can't help the team, or play with them, leaves athletes feeling helpless. 
Luke's Story
Pentucket sophomore, Luke Zavaski has a fractured humerus and partially torn labrum, but this isn't his first experience with being injured. He plays football, basketball, and runs track. Last year, Luke tore his PCL and went through the process of surgery, crutches, and 9 months of physical therapy, sadly missing out on most of his sports seasons. 
He talked about how it was when he came back and how different athletes feel mentally when playing again. He says, "There were definitely times when I was like questioning if I would be able to go back and things like that and if I would be at the same level that I was before I got injured so it definitely took a toll on me overthinking things and stuff like that." 
Many athletes get back and although their bodies may be fully recovered, their minds aren't which can lead them to a change in performance. Zavaski says; "It was football my first sport back so I was pretty nervous until I got hit for the first time and then all my nerves went away and I didn't even have a thought about my knee." 

Mary's Story
There is always a fear of getting hurt again that affects previously injured athletes. Mary Surette, a senior at Georgetown High School said "When I came back, I was a completely different player. I played scared, and all of my confidence was lost. It was hard feeling like I had to start all the way from square one again." 
Surette tore all of the ligaments in her ankle her sophomore year and was out for her main sports seasons. Athletes have to deal with how they were mentally changed long after coming back from injury leave. 
"Lazy"
Lazy is defined by being unwilling to work or use energy. Injured athletes are called lazy when they are physically unable to do something. But from an athletes perspective, all they want to do when they are injured, is come back. Along with these misconceptions, a feeling of self-hatred is present in injured athletes which stems from a mentality of punishing themselves because they feel useless to their team.
Coach's Perspective
Dr.Ruland is a 9th and 11th grade English teacher, but he is also the cross country head coach, and distance and assistant coach of  spring track. Cross country is a sport filled with injury, and Dr. Ruland had a lot to say on his attempts at allowing his athletes to participate. He says that since most injuries are overuse injuries "people can bike and do core work and stretch with the team." 
But for some injuries, he has to let them rest which prevents any direct participation. Ruland said"I really struggle with that (including injured athletes) for cross country because I want people to be part of the team and to be engaged but I haven't quite figured out how to do that just yet. I think it is really important to keep people in the game and part of the team because they are part of the team."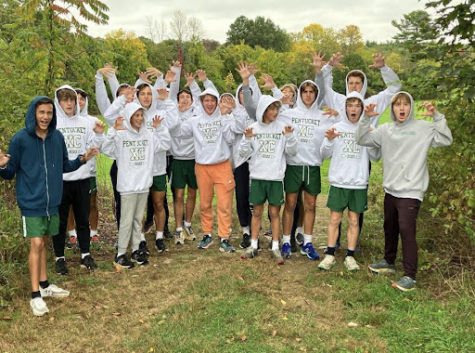 Lily's Story
Track/XC star at Pentucket, Elizabeth McIntyre, sophomore, talks about how running helps relieve her anxiety and how without that at the end of her day it's difficult for her to fight the things she's anxious about. McIntyre had issues with the ligaments around her achilles tendon. Athletics are a great way to relieve stress and to relax because of the endorphins that are released with physical exercise and the stress hormone levels that are reduced.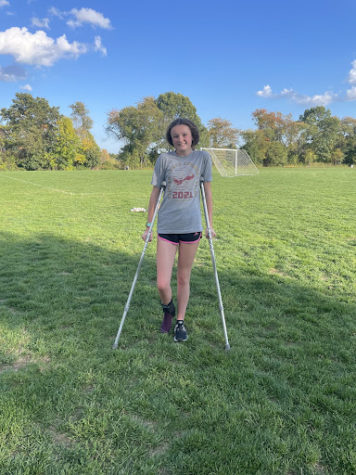 Does this affect professional athletes? 
Former Carolina Panthers tight end Luke Kuechly, who retired early from his growing career at 28, is a good example of how injuries can impact even professional athletes mental health. Images and videos of him crying while being carted off went around after he suffered his third concussion. This horrible image shows the mental suffering that can come with injury.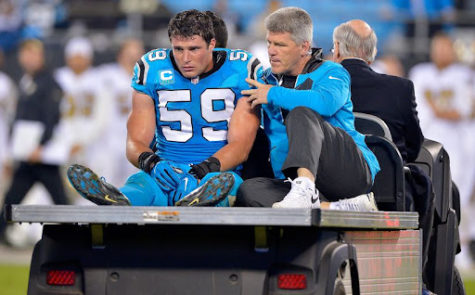 Overall
Injuries are not just in the body, they are in the mind, in the heart, and in the soul. Athletes are burdened with the weight of their physical pain and their mental suffering that injuries place on them. Anxiety, depression, fear, and hatred blooms within athletes, copious amounts of negativity stem from their injury whether it be minor or major. 
Athletics are more than just something to do, football is more than a game, cross country is more than a sport, coaching is more than a job. Take that away from the people who love it, and it is unknown what happens to them. The mental health of the injured athletes needs to be discussed more. But, most people will not talk about how they are doing, so check in on your injured friends. Coaches, check on your injured players. And athletes, check in on your injured teammates. 
Check before it is too late.