The Impact of Mac Miller's Music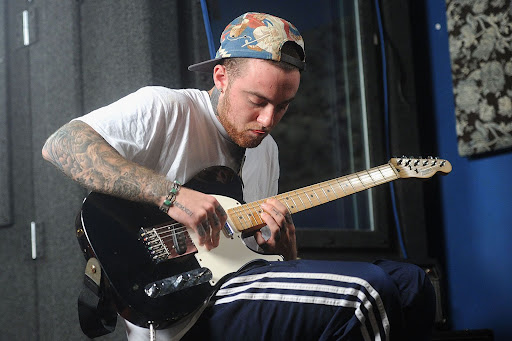 "My ideology was, If I just make very happy music, very happy music, then people will forget about whatever their problems are. I will forget about my problems." 
Those are the words of the late hip-hop artist, Mac Miller, who passed away at the age of 26 due to an accidental drug overdose in 2018. The young prodigy broke out in 2011, following his project Blue Slide Park at only the age of 19. Now, a total of 17 million monthly listeners still enjoy and love his music, even after his death, which left his listeners saddened and lost.
At the time of his passing, losing a person like Mac Miller took a toll on anyone who knew him as family, a friend, or a listened artist. Fans came together in mourning not only because Mac Miller was a good, enjoyable, experimental musician, but also because he presented himself as a leading, goofy person that every teenager wanted to take after. His character ultimately defined his career and is what we know as the sweet and genuine, Mac Miller.
Why Was Mac Miller So Loved?
Mac Miller's music was easy to understand if you knew what situation he was in, and, in turn, was the reason why people liked him so much. Mac used being a part of the younger generation to his advantage to connect with fans and to give them something to relate to. Mac's music showed that it went further than beats and rhymes; his music was a cure to anyone going through what he did.   
"His music helps me because I felt like sometimes that I could relate to what he was going through when he was making his music," says sophomore Alex Lamattina, who has been listening to Mac Miller since elementary school. "It's easier to listen and feel something when you're listening and talking to someone that's gone through the same things, so you feel a better connection."
Miller's music was universal. He created his music in a way where anyone could interpret it the way they wanted, as long as it helped them. Whether it's the beat, lyric flow, or rhymes, Mac Miller's objective was to spread positivity through music, which is why he was so loved in the hip-hop scene.
Music Experimentation
Mac Miller's career started off "frat-rap." Albums like Kids, Blue Slide Park, and Best Day Ever pivoted towards the younger generation of listeners, which was a success, but came with issues. The "frat-rap" genre was comically viewed, and if that wasn't enough, the rap scene constantly criticized it. This ultimately caused Miller to feel as if he wasn't being taken seriously. 
It was evident that Miller knew he had to broaden his musical scope, so he took on the challenge. His objective was to create a more diverse discography that appealed to a larger audience. He took on the objective and created one of the most popular mixtapes ever released. 
Mac Miller released his mixtape Macadelic in 2012 and it ultimately blew up among the hip-hop/rap scene and more. Macadelic introduced new sounds and instruments and presented the first of many of Miller's more diverse works. He showed that pushing through challenges can bring a positive impact, inspiring not only other artists but also his listeners to stand up to obstacles and use them as motivation. Macadelic illustrated the fact that Mac Miller's music was universally enjoyable to all audiences and, from there, paved the way for more unique-sounding albums. 
Outstanding Work By Mac Miller
Mac Miller was an amazing person and is still praised to this day. His work spans within a lot of different genres than just hip-hop and rap, which is why people are so interested in his work. I'm including a list of, in my opinion, his best, meaningful, and most diverse works, and a brief description of each. I strongly advise listening to them.
Watching Movies with the Sound Off (2013)
A mature album that focuses on Miller's relationships throughout his life. The album holds a nice subtle sad feeling, as if you were listening to it on a rainy day. It has great features from artists like Earl Sweatshirt, Ab-Soul, and Action Bronson. It's more diverse and mature compared to his past albums and depicts his real life emotions.
The Divine Feminine (2016)
In my opinion, this is Mac Miller's most mature and serious album yet. It focuses on the masculinity and femininity of a human. Miller describes it as, "The Divine Feminine, to me, is the universe. Treating the world how you're supposed to treat a female is awesome." The album focuses on the importance of love in the world and the love you share with your partner.
You (2012)
What's special about this piece is that Miller released it under a pseudonym named Larry Lovestein & The Velvet Revival. Definitely is one of Miller's most beautiful works, since there is no rapping at all. In an effort to bring more diversity to his discography, he introduced a jazz aspect and only sang throughout the EP. It's really calm and peaceful and I strongly recommend this piece.
Circles (2020)
Circles was the first album released by management after his passing, and trust me, it hits in all the right places. Songs in the album consist of hip-hop/rap, but also, in some songs, Miller slows it down to sing. The album consists of Mac Miller's emotions right before his passing, so it's interesting to listen to. It's more of a sad album, and presents grieving, sadness, and substance abuse. It's good to listen to someone's emotions through art, which is why I include it on this list.
Faces (2021)
This album is absolutely amazing. Faces was a 2014 mixtape released on streaming services in 2021. I love this album in particular because it's all over the place. This album has insane vocals, and is his most diverse album yet. It's just wild. In this album, Miller comes full circle with his listeners and talks about his drug use and how he acknowledges the problem. It resembles, at the time, the 22 year old's mind and the emotions he feels everyday. This album is dark, but I love it because it gives listeners something to relate to, which can help them if they are struggling with what Mac Miller went through. Like usual, an amazing album by Mac Miller.