Taylor Swift Ticket Controversy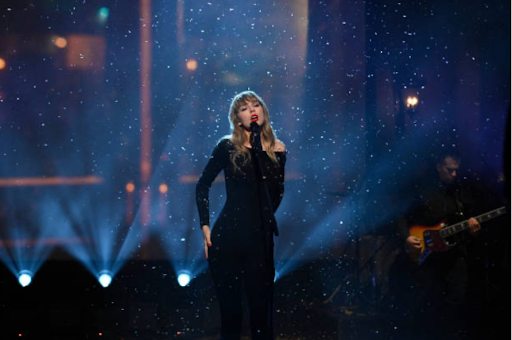 After five years since her last, Taylor Swift announced her tour, The Eras Tour, at the beginning of November for her most recent album. Her long break from touring has brought fans six albums, including two re-recorded albums, that have increased demand for her upcoming tour. 
Swift re-recorded two of her previous albums, Red and Fearless after she was unable to buy back the rights to her old music. After her extremely commercially successful Reputation Stadium Tour, Swift announced her album Lover in 2019. Following the cancellation of her planned LoverFest, Swift announced two albums in 2020, Folklore and Evermore, the former of which won Album of the Year at the Grammys. Contributing to her already overwhelming popularity, Swift's success followed the releases of her albums Red (Taylor's Version) and Fearless (Taylor's Version). This commercial success is to blame for the issues following the tour sale. 
Taylor Swift, like many other artists, used Ticketmaster's Verified Fan system and Capital One presale, which is only open to Capital One cardholders for the first round of sales. This ensured that only fans got the first pick at tickets and, in theory, minimized resellers and bots. Ticketmaster faced 3.5 million fans registering for the Verified Fan program, and only about 1.5 million were given codes. According to Greg Maffei, the chairman of Live Nation, Ticketmaster's partner company, the site got 14 million requests at the same time. This contributed to the "extraordinarily high demands" Ticketmaster faced during the presale. Despite the Verified Fan Presale system, they experienced over 3.5 billion requests on the website from additional fans without a presale code and a "staggering number of bot attacks."
Following a lack of tickets, Ticketmaster canceled the general sale for tickets, meaning only those who got selected for Verified Fan Presale or got to participate in the Capital One presale had access to tickets. Everyone else is out of luck. Resale tickets, although continually decreasing in price, present unusually high numbers. On the first day, resale tickets were on sale for up to $30,000. As of now, about a week later, floor tickets on StubHub are about $5,000.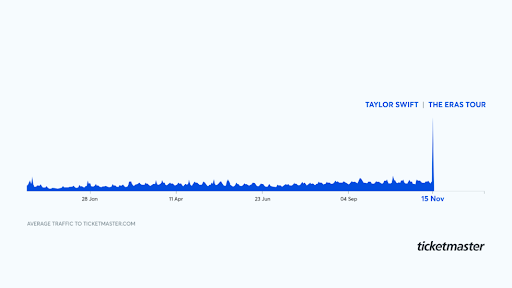 Extreme disappointment from most fans who could not buy tickets led to outrage against Ticketmaster, prompting their response. They claimed the demand for Swift's tour "broke records" and caused the site to shut down despite careful, deliberate efforts such as staggering and stalling purchasing times for fans. Even politicians have gotten involved, with Alexandria Ocasio-Cortez, a member of the House of Representatives, tweeting, "Ticketmaster is a monopoly…and they need to be reigned in. Break them up." 
With Ticketmasters' new merge with Live Nation, another one of the major ticket-selling sites, they were able to sell 2 million tickets during the first day. She introduces an interesting point of view, that Ticketmaster's immense power is not only to blame for the incident but also a pressing issue that should be addressed. Politicians like AOC believe that private companies with too much power over the industry, like Ticketmaster over the ticket industry, are prone to issues like these that cause inconvenience to consumers. 
Because artists in her positions typically receive the bulk of the profits and are able to control the prices of the tickets, others blame Swift for the high prices, another source of disappointment for fans. Tickets originally were supposed to range from $49-499, but as the tickets continued to be sold, the prices rose. Some believe this is due to a setting that artists can choose, called dynamic pricing, which increases prices based on demand. According to an article published by the Washington Post, however, Ticketmaster has refused to comment on whether or not Swift chose this option. 
Whether or not Swift used dynamic pricing, fans who did not get tickets as of November 27 may not get a chance to unless they want to purchase tickets for hundreds above their original price. Ticketmaster's monopoly makes it beyond difficult for fans to see their favorite artists, especially those with high demand, and its unreliability discredits the brand. Despite this downside, the anticipation felt by thousands points to exciting, one-of-a-kind experiences for those who are able to make it and hopefully Ticketmaster will work on changes to make their site an easier experience.