Teacher Skits: What is Going On?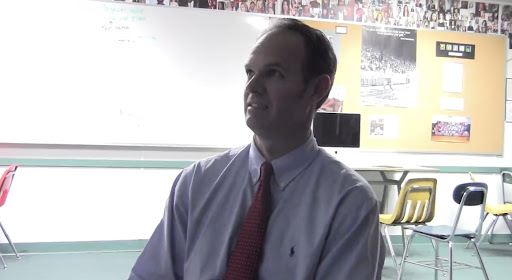 Teacher Color Day 2009/2010
"The Office"
This skit follows Mr. Seymour as he engages with his staff on the topic of Color Day. Many teachers jump up and down, throwing in outlandish skit ideas, and there are some interviews here and there, which give it that "Office" feel. There are references to nuanced technology, such as "texting" and "facebook," and "Wikipedia" gets thrown around as well. While this skit is not crazy or mind-blowing, it is hilariously stagnant and entertaining to watch. The video encapsulates the latter half of the 2000s, and sets a high standard for Color Day videos to come. 
Quotes:
"You're such a killjoy, Ruland."
"I know I can act. I read an article on acting on Wikipedia."
"You can't have a reflection of a reflection, because the reflection would be so powerful it could just blind you."
Score: 11/10
Teacher Color Day 2010/2011
"Back to the Future"
Including staff commentary on the previous Color Day video, and yet another faculty meeting, this video again follows the plot line of finding a topic for the teacher skit. While this is the second of three "Office" videos, the skit takes on a "Back to the Future" direction, where Mr. Seymour travels to the past in search of a topic for the skit. 
The interviews and one-on-one speaking moments are bland, but so bland that they are laughable. They include a great amount of humor and personality that really make the video entertaining. This video is great, but it does not match the energy of the previous year. The "Thriller" dance-break, although entertaining, feels unnecessary and drawn out, which unfortunately takes the score down a bit. 
Score: 9/10
Teacher Color Day 2011/2012
"The Pentucket Faculty Rises"
The video begins with a dramatic, emotionally-provocative montage of past skits. It is unlike the other introductions, and leaves viewers at the ends of their seats. Unfortunately, that is the one good thing about this video. 
It continues to show Mr. Seymour and Ms. Fichera reviewing potential videos and ideas for the skit, where the math department does a 1920-esque video of attempting basketball.
Finally, Mr. Seymour comes up with the brilliant idea of a music video, and the staff are not happy. In the words of Dr. Ruland, "that is a terrible idea."
The "Pentucket Office" trilogy ends with Gangnam Style, where teachers come together and embrace the beginning of the new decade. 
Normally, a trilogy falls off by the third movie, and this Color Day trilogy is no exception. It was thrown together; a flop, if you will. 
Score: 5/10
Teacher Color Day 2014/2015
"Full School"
The skit begins with a frantic Mr. Seymour who oversleeps and consequently misses Color Day. However, he is invigorated with school spirit as he talks about disbanding "corny jokes" and doing "something original, something great." 
At around 1:09, the video gets a little odd, with "Mr .Herr Jacques" and Ms. Stone doing an interview-Talk Show type skit. The interview clips are dispersed throughout the video, but there is a Full House introduction remake, some questions from Mr. Harty in hats and wigs, and other things of the like, which is unfortunately boring in comparison to videos of the previous years. 
About half way through the video, teachers hold up pictures from their childhoods and teenage years, which is a nice touch that humanizes the faculty to students. After that comes a montage with Pentucket Alma Mater, which I frankly cannot describe- you have to watch it. 
There is a dance montage, which is generic. However, we are blessed with Rick Astley and a dance break from Mr. Seymour. The Rick-rolling segment really adds a level of eloquence to this video- the dancing, the lip syncing; a true masterpiece.
Notable quote: "Sometimes I start a sentence, and I don't even know where I'm going with it. I just hope somewhere along the way I find the ending." -Mr. Seymour
Score: 9.5/10
Teacher Color Day 2015/2016
"Teacher Matters"
There is a possessed floss agenda that attacks the teachers at the beginning of this cinematic masterpiece. The stalking, the terror, the screaming really set the scene for this Color Day video. 
There is then, somewhere along the way, a teacher-parody of some TV show, which, for the first time ever, features Mr. Sherman with no vest. There is the 2016 staple of the "whip" and "nae nae" which really adds an air of novelty to the production.
While there is great potential, there is no acting; I refuse to score this video.
Score: I/10 for incomplete.
Teacher Color Day 2016/2017
"Guardians of Pentucket"
This video starts with a high level of energy from Mr. Seymour. Off to a great start, teachers throw out ideas, such as dancing babies and evil kittens, for the Color Day skit. Mr. Seymour speaks for us all when he says "awful, awful, AWFUL." 
With a Disney theme and Color Day consultant, this video seems to be turning a new leaf as redemption for the past year. Keeping with the times, there are mannequin heads, dabbing, and other moves to "Under the Sea." 
Unfortunately, there is not much to say about the rest of this video other than the fact that Ms. Fichera took a swim in the old pond, which definitely increased the score.
Notable quotes: "I don't get it. I mean isn't this already the happiest place on earth?" -Ms. Kobuskie
Score: 4/10
Teacher Color Day 2017/2018
"Amazing Unbelievable Race"
Numerous teams all fighting to make a decision for the Color Day skit, the teachers spare no mercy. Some are running, some are skipping, some dilly-dallying around the halls with no urgency whatsoever. The final team to finish is eliminated.
Next, the teams are forced to complete the historical game, "The Oregon Trail," and whoever finishes last is, again, eliminated.
The teams go on to collect clues, where Dr. Ruland's face makes a great appearance. Once the first clues have been collected, the teams must use the Dewey Decimal System to collect more.
Team Citation are the winners, and choose the National Aerobic Championship as the theme for the rest of the video, where Mr. Seymour makes an appearance with his aerobic skills.
This video has little to comment on, as it was mediocre at best. 
Score: 5/10
Teacher Color Day 2019
"Pentucket Rangers"
Teachers from all four core subjects are forced to fight the forces of evil. Pentucket Pride is at stake as "Triton" uses Mr. Langlois and his agenda book to end school spirit. However, the faculty are having none of that, and take matters into their own hands. 
Mr. Jacques seems to be the teachers only hope in defeating the bog-monster Mr. Langlois, so he teaches them the "joy of dancing."
In the end, Mr. Langlois is restored to normal, and "Triton" leaves Pentucket school spirit untouched.
Overall, this video is a huge step down from previous years, as it lacks the core production characteristics that have been utilized so vigorously- bland interviews, awkward silences, obviously scripted jokes, and participation from most facility members. This video is shameful.  
Score: 1/10