First Cafe Jazz in the New Pentucket High School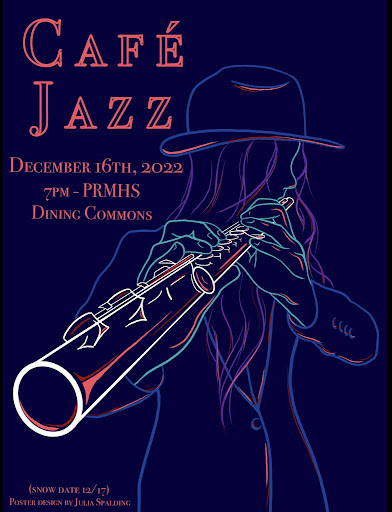 Cool lighting, great color schemes, free food, and hip background jazz will be coming to the Pentucket High School on Friday, December 16. It will start at 7 pm, and it will be located in the main dining commons. The main cafeteria spot in the school will be shifted from typical school lunch hall scenery to a flashy and illuminated room full of fancy tables and cool colors. Imagine indulging in some free food to the background sound of jazz!
Cafe Jazz is not the typical experience you would get from a school music concert, and it brings a different vibe and atmosphere of music that is more relaxed and whimsical. Students improvise freely over these classic jazz tunes as the crowd casually listens in, dining on their free food for the evening. The lights for this event are certainly different from ones in an auditorium, and their colors vary far more. A typical music concert in high school will have regular old auditorium lights that are often the same color, but Cafe Jazz has a diverse color scheme that uniquely changes each time the event occurs.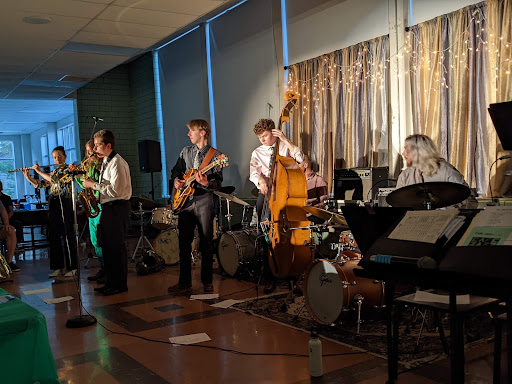 Pentucket High School students who are in the Big Band and Jazz Combo ensembles will be performing an assortment of jazz songs, spanning from different periods of the genre. I asked a few students about what Cafe Jazz means to them, and they all had endearing words for this unique and special event. 
Saxophonist Dillon Metcalf, a regular attendee of all Cafe Jazz events for the past three years, said "Cafe Jazz is so cool, and if you don't go, you are missing out". 
Junior Chaney Goldstein, who also plays the saxophone, mentioned how cool the new scenery will be: "They turn the regular dining commons into something cool and special." He went on to mention that Cafe Jazz is the "only musical night of the year when students are allowed to freely express themselves in a creative way."
Senior Julia Spalding, multi-instrumentalist who designed the poster art for this upcoming Cafe Jazz, said that the event has "so much energy and soul put into it that everyone there ends up having a good time."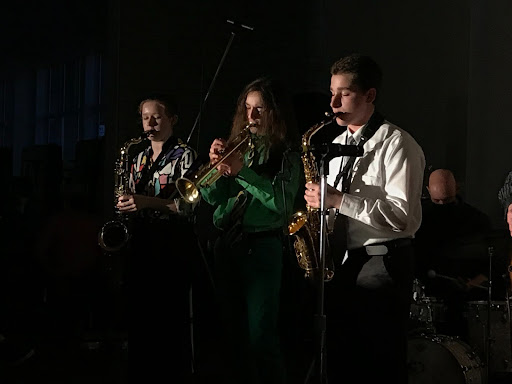 Mr. Schumacher, head of the music department and all jazz ensembles at Pentucket, had some great things to say about his experience through the years at Cafe Jazz. He said "Cafe Jazz means everything to me" and perhaps his favorite musical event of the year. This is his 23rd year running Cafe Jazz, and the event itself is a tradition he carried from his own High School experience. When asked about what stands out about Cafe Jazz, he described it as more "intimate, personal, and relaxing" than an average musical concert. He mentioned that the audience is on the same level as the players, so in that sense it's a more intimate and meaningful setting. 
So, if you're looking for somewhere fun to go to this Friday night, Cafe Jazz is the place to go! It's a unique concert experience that is very spontaneous, open, and chill.