Is Football Too Dangerous?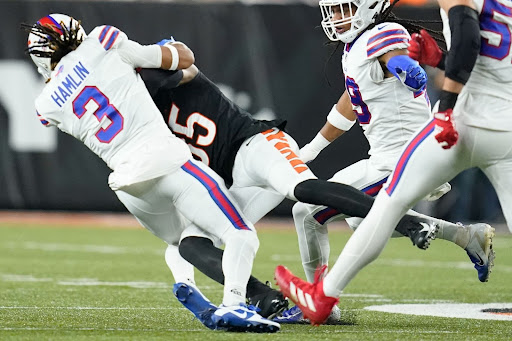 American football is the most popular sport in America. Many people would agree that football is a fun sport to watch. It unites people, whether it be through fantasy football, the excitement of the superbowl, the friendly rivalries, or the passion that the players have for the game. Over the years , many injuries happen, as they do with any sport.
However, on Jan. 2 during the Bill vs Bengals game at 8:55 p.m., Damar Hamlin, a safety of the Bills, was struck with a hit that resulted in him passing out on the field. Ambulances were immediately rushed to the scene and administered for 10 minutes before he was rushed to the hospital at9:25 p.m. At this point in the game, football was no longer a game, but a conversation of life and death. Is football as a sport too dangerous?
After this incident the game was officially suspended for the night. Players were praying for this young man and other players noticeably in tears about the situation. This incident was something horrible that has never happened in NFL history. 
Football is already a very dangerous and physical game, however, this is on another level. So what can be put in place in order to stop something like this from ever happening again? Is a death on the field what has to happen in order for something to change within football?
Bella Huggins, a sophomore at Pentucket, states her opinion on what happened that night. She states, "You can't blame football, the players sign up for this, it wasn't even a dirty hit, it was just a hit in the wrong spot and we don't know what exactly happened. It was something that could have happened to anyone at any time. It wasn't his fault, it wasn't the person who hit him fault, it's not the NFL's fault."
Huggins presents the idea that everything is dangerous in some way and what happened was just magnified by the glory of television. 
In the end many people agree that if you add any precautionary measures to the game, you take away the game of football. 
But will this thought process lead to someone's death? Only time can tell.