Brayan Bello is The Red Sox Ace: A Deep Dive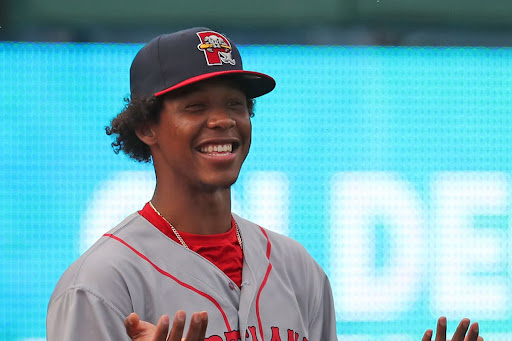 Brayan Bello (whose MLB Debut I saw in person) was an overlooked international prospect who the Red Sox scooped up for a cost of around 25,000 USD. Right-Handed Pitcher Bello features two fastballs, a change-up that is his best pitch, and a nice gyro slider. He had a breakout season last year in the minors with Portland AA, where he tossed a 7-inning no-hitter and pitched to a tune of a 1.69 ERA in AA and a 2.76 ERA in AAA.
Bello's best qualities are his ability to keep the ball on the ground and the soft contact he induces.  I think where he has the most upside, however, is in the swing-and-miss department. First, on the contact side of things, Bello had a 55 groundball%, alongside a very low 5.4 barrel%, which is very promising for the 23-year-old rightie. He can accredit this to his good sinker location vs Right-handed batters, and this leads on to his good fastball location overall where he throws it in the upper ⅓ of the strike zone. Because his arm slot makes the fastball more deceptive as well, both of the pitches sit at 96-98. I think Bello's four-seam fastball has the higher upside, because of his release angle and commanding a four-seam is much easier to command than a sinker. Although I think his sinker is still something that should be used, I think the Four-seam should be his primary fastball. 
My personal favorite pitch in Bello's arsenal is his changeup, which he throws around 24% of the time and at 88 miles per hour. There is one reason why I am so high on his change up: it misses bats. The pitch had a whopping 44 whiff%, and while he did struggle with location at times, this is common among rookies. Bello's change-up held batters to a batting average against the pitch of  .158. Moving into the shape of the pitch, or how it moves, the pitches MPH is at 88 as stated above and the spin rate sits around 1876, with 99% active spin, which is a very good thing. The pitch comes in from an observed 2:15, (picture the time 2:15 on a clock and this is what I mean) and the pitch has -17.6 inches of horizontal movement, which means the pitch goes down and towards the catcher's glove.

Moving on to Bello's precarious slider. The reason why the pitch is precarious is that the shape, a.k.a. the movement profiles, of the pitch changed from having more horizontal movement or "sweep" to a more vertical movement profile or a "gyro" slider. I personally think the gyro slider is what he will end up sticking with for a variety of reasons. The first reason is that he had much better command over it, which led to more strikeouts and fewer walks. The second reason behind the pitch not having more "sweep" and sticking with the "gyro" shape is because it tunnels better with his arsenal. What is tunneling? Tunneling, to put it briefly, is basically how two pitches look coming out of the hand, and they move in different directions. Because Bello has such a unique arm slot and  such overpowering stuff by most models, the eye test, and the individual specs of the pitch. So why does a gyro slider suit Bello? It's because he throws a fastball in the upper half of the plate, and his slider looks like his fastball coming out of his hand. It then breaks more vertically, thus causing the hitter to swing at bad pitches and getting Bello more outs in the process. This tunnel could be Bello's second-best, because his sinker changeup-tunnel is just as lethal. The pitches run off in different directions, causing a lot of chases on the change-up because the hitter thinks it is a sinker.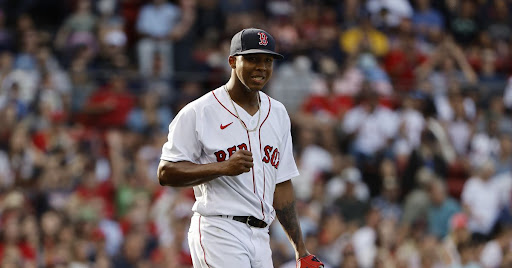 The last part of Bello's game I want to cover is the walk issues he had during his first major league stint. Should there be some amount of concern with 10 bases on ball% through 57.1 innings? Yes and no. I say yes because at face value, that is not good. At the same time, I think he has the talent to fix the issue.  In September when he really found his form his BB% was 8.6, which still is not great, but if he can get that down another 1ish % he should be good for a very long time, and he will be good even with the walk issues for a very long time.
All in all, Brayan Bello is a name you should know if you're a Boston sports fan. I personally have seen him pitch twice in person, once in AAA and at his MLB debut, and the way he carries himself is like a true professional. He has a swagger to him that is second to almost none. His talent backs up the way he acts, and I am very excited to watch him pitch in 2023. I hope this article made you a little more excited for him too.