Girls Indoor Track: Winterfest/Speed Classic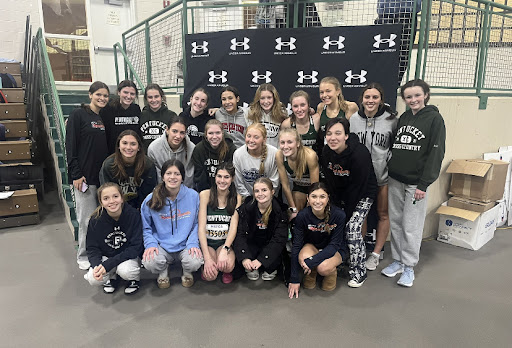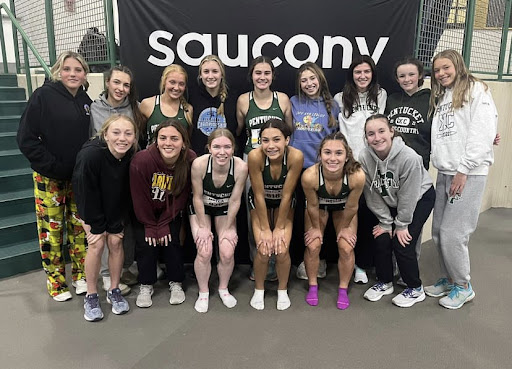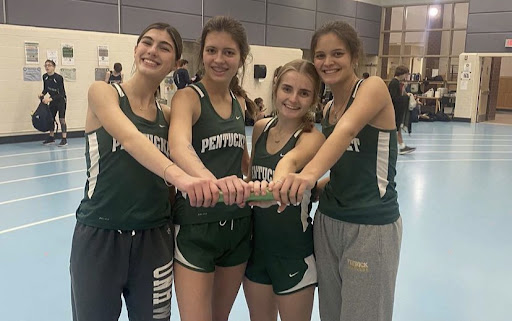 The Pentucket girls indoor track team is off to a remarkable start in the 2022/2023 season. Both JV and Varsity teams have left an intimidating impression on the CAL.
The JV team took first place at their first ever track meet at Ipswich High School. Multiple first place finishes and lots of learning occurred. This is only the beginning for this new group. 
That following day, a second group traveled to the Reggie Lewis Center to run at the Winter Festival meet. Seven athletes qualified for the state meet.
Recently, both JV and Varsity teams traveled to Reggie together to compete at the Speed Classic. Three performances qualified for nationals. 
The following athletes qualified for states: Delaney Meagher, Sydney Trout, Kayla Murphy, Reese Gallant, Sage Smith, Meaghan Grenham and Wynter Smith. Running in the 55 meter dash, Sage Smith and Sydney Trout qualified for nationals, along with the 4×200 relay team with Kayla Murphy and Reese Gallant. 
Despite small numbers this year, the team truly has left a mark at the small school invitational meets. The talent is well covered in all areas both on and off the track. A small team only means more opportunities to create close bonds. 
During the holiday break, team qualifiers traveled back to Reggie to compete at the Holiday Challenge. There were multiple placers, including Delaney Meagher's outstanding, personal best performance in the high jump. The sophomore took 5th place at the multi-state meet. Six other Pentucket qualifiers also had personal best performances. 
On January 10, the team travels down to the new New Balance Track and Field Complex in Boston to begin their regular season. With challenging meets to begin, Coach Derro plans to create a strong team. These talented athletes have a lot in store to show off during the 2022/23 season.