Boston Attraictions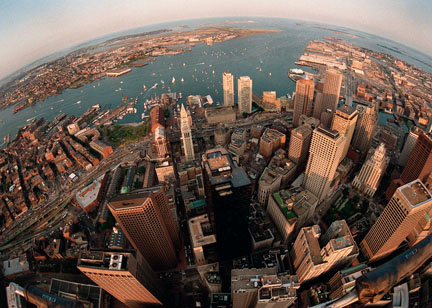 Food
Tasty Burger[1], located at 1301 Boylston Street in Boston, or at 14 JFK Street in Harvard Square, provides burgers made with beef, turkey, or a vegetarian alternative. With their burgers ranging from a price of $5.25 to $6.50 for just a burger, with a combo adding between $3 and $4.50 depending on the choice of fries, onion rings, or a salad. All things considered, Tasty Burger will cost $8.25 (plus tax) for the base meal.
Shake Shack[2], situated at 49 Boylston Street, provides a similar menu to Tasty burger, but with a slightly lower price tag. Burgers at Shake Shack start at $4.85 for a single patty, with fries and a drink starting at $2.85 for plain fries and the cheapest drink at $2. A double patty is $7.40 and other drinks going up to $3. With all things tallied, a meal at Shake Shack will take at least a $9.70 (plus tax) bite out of a patron's wallet.
Hard Rock Cafe[3], holding the fort at 22-24 Clinton Street, offers a wider selection of burgers, steak, and chicken tenders. Meals at this establish range from $9.95 (plus tax) for chicken tenders to $14.75 (plus tax) for the Big Cheese Burger. Meals include a side (usually fries or mashed potatoes) and a drink.[4]
Faneuil Hall[5], situated at 1 Faneuil Hall Square, offers a large variety of quick meal options, ranging from Boston classics such as chowder to a selection of Chinese, Japanese, and Thai food. Prices for meals are typically around $8 or more, drinks not included, and with drinks $10 to $15.
If you want a great burger hit the streets and head down to Tasty Burger or Shake Shack. Looking for more variety? Then try out a few places in Faneuil Hall or get a table at the Hard Rock.
Shopping
Faneuil Hall also offers a wide range of products ranging from Accessories, Men/Women's Clothing, Jewelry, and Electronics. Dozens of pushcarts augment the typical assortment of goodies available in a downtown shopping district with more localized and specialty items for those looking for something different or unique.
Prudential Center[6] features some of the bigger chain retailers that just can't squeeze into the area around Faneuil Hall such as Ann Taylor, Oakley, Olympia sports, and Barnes and Noble. For those seeking specific products a series of specialty shops also offer things such as electronics (the Microsoft store), makeup (Sephora), and childrens toys (Magic Beans).
The mall at Copley Place[7], at 100 Huntington Ave, offers a similar selection of outlets that give a taste of high fashion. Outlets such as American Eagle, Banana Republic, Bath&Body Works, and Coach all offer a large variety of clothing and fashion products. Other stores such as Gap, The Walking Company, and Victoria's Secret further broaden the selection of clothing and accessories, with other big name designers filling in the gaps for the fashion conscious customer.
Attractions/Entertainment
Fenway Park[8], plopped right at 4 Yawkey Way, gives visitors the chance to see Major League baseball in action. Visitors both during and off season can also have a group walking tour throughout the stadium, member's sections, and the press box. Fenway also has also been home to events such as Bruce Springsteen, Paul McCartney, Justin Timberlake, and Jay-Z.
Boston Public Garden[9], stretching along Boston at 69 Beacon Street, provides a place to relax from rushing around Boston. In spring flowers of all kinds are planted throughout the park in a variety of colors, shaded by stands of trees. During the warmer months visitors can also make use of Swan Boats for a fee to relax on the ponds throughout the garden.
The House of Blues[10] offers a wide range of performing musicians from local acts to big names. Head down for a concert or to get some souvenirs before enjoying the talent.
---
Leave a Comment