Maggie Dorato: Senior Spotlight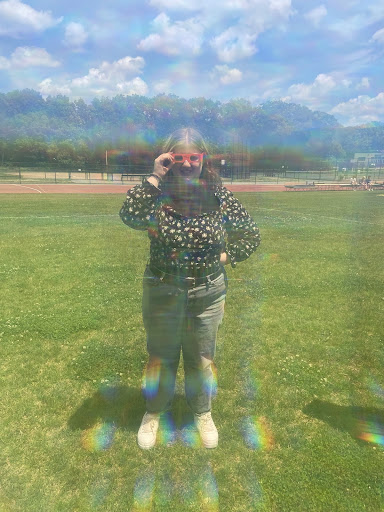 Groveland Resident, Maggie Dorato is a senior at Pentucket High School. Interested in criminal justice and an avid environmentalist, she is a force to be reckoned with. 
Dorato is a leading member of the Pentucket Environmental club. Since sophomore year, Dorato has participated in this club and all of its activities. Dorato joined because she "was interested in helping things like climate change, global warming, gardening, and outdoor activities." 
The club does many exciting activities such as beach cleanups and crafts that are environmentally friendly. One of Dorato's favorite activities has been creating the outdoor classroom and cleaning up the brook located at the school.
According to Dorato, the Environmental Club "did everything from scratch" with the hopes that "everyone will use it in the spring." As part of the creation of the outdoor classroom, Dorato and her peers planted indigenous species with handmade signs describing them and their value to the area. 
Dorato enthusiastically mentioned the club also built and painted benches that fold into tables for the classrooms too. They worked hard on this project and even cleaned up the area by removing sticks and stones. She hopes to plant flowers in the spring with her club to "make it more aesthetically pleasing."She is also looking forward to the warmer months when she and her club can get more involved with the school's outdoors. 
Not only is Dorato part of the Environmental club, but she is also part of the Peer Mentors club, National Honor Society, and National German Honor Society. Dorato is very proud of her German-speaking skills. She has been taking German for four years and enjoys speaking the language and learning the culture. Last year she received an award for her German-speaking skills. 
Yet Dorato's biggest accomplishment was completing Honors Physics last year. Dorato surprised herself when she found an interest in Physics and her problem solving skills to complete Physics problems. 
Dorato entered Physics with challenges ahead; her math level. According to Dorato, she struggles with math and was taking Geometry in her junior year. For Physics, students need to use trigonometry and that's taught in Pre-Calculus.
 Dorato was one of the very few students in the class not in Pre-Calculus or had taken the course. She took initiative and taught herself how to do trigonometry. Physics left Dorato feeling really accomplished after completing a challenging problem. According to Dorato, "I think given the circumstances, I did really well in that class." She jokingly says that "I was collecting those Jacques Prestiges like crazy." 
Dorato loves Physics so much that she would have taken AP Physics if there was no requirement for Calculus for the class. 
Dorato is a great student and peer at school and has a job after school as well. Dorato works in the front at Riverside Pizza in Groveland, Massachusetts. She works as a cashier, bagging things up, answering the phone, and sending orders out. 
This job has taught Dorato a lot like working under pressure and maintaining professionalism in difficult scenarios. Since she first started, she has worked for two different ownerships and gained different skills from those experiences. She even wrote her college essay about her experience working at Riverside Pizza. 
Dorato loves her job and one of the things she likes about it is the consistency. Dorato notes that she loves Fridays because all of the regulars come in. She  "loves seeing all the regular customers and forming relationships with them; it is rewarding in a sense."
Also, Dorato loves the independence and important decision-making that comes with the job; "I feel accomplished after we have had a rush and everything has gone smoothly and whenever I have to fix any sort of problem."
Being a senior is a very unique experience and Dorato is excited to complete her senior year. She is excited to leave Pentucket and expand her horizons; "I'm excited to get out of here but in the sense that we need to experience the greater world." According to Dorato, Pentucket students need to leave their small towns and "go to places where a lot is happening, where there is diversity and there are other opportunities."
Of course, Dorato is also looking forward to the senior trip later in the year as well as graduation. Like many other seniors, she wants to continue to make fun memories with her friends before they leave for college. 
Dorato has her eyes set out to be successful; "I hope to accomplish big things." Being successful to Dorato is having a good job, being "stable, and content with (her) life." 
In five years, you may see her living in Boston, or a city on the East Coast with a Dachshund or a GoldenDoodle working in the criminal justice field. She hopes to join the criminal justice field to directly help others; "I would hope to solve crime and provide justice to families and victims who deserve it." Yet, before settling down she hopes to travel around the world, especially to Australia and Germany. 
With so many accomplishments and achievements, Maggie Dorato is certainly destined for greatness. Pentucket is very lucky to have a student and peer like her.