DECA SCDC 2023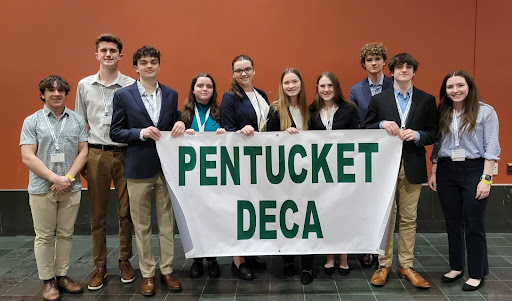 Introduction to Pentucket DECA
How many school clubs are you in? Do you want to join a club that looks fantastic on a college application, even if you only do it for a year? You should join DECA. 
The DECA Overview 
DECA (Distributive Education Clubs of America) is an international association for high school and college students who want to enter the business world through finance, entrepreneurship, marketing, etc. In this club, students develop skills as business professionals and leaders via academic competitions and conferences in their district, state, and nation.
What happens in DECA?
In DECA, students compete through roleplays and tests. Many categories will require their competitors to take a test two weeks before their competition, but there are a handful of categories that do not require a test, such as the Financial Consulting Event (FCE).
DECA members go to competitions to do roleplays in their chosen category. They each visit a judge at a designated time, and each category has different prompts. For most categories, the competitors receive their prompts as they enter a "prep room" to write down their responses with a timer set for 10 minutes. Afterward, they present their responses to their judge, acting as if they were at a business conference. Those who place the highest in their category advance to the next level of competition.
For the students who want to plan out their presentation in advance instead of an on-the-spot one, some categories offer students to prepare their presentation months in advance with a given prompt. Those students will be given an extended time limit to present and will have a predetermined page limit for their responses.
41% of the offered categories do not have to take a test. Some of these categories include the Franchise Business Plan (EFB), Sports and Entertainment Marketing Operations Research (SEOR), and the Community Awareness Project (PMCA). Instead of taking a test, the competitors in this category work in a multi-person team or have a written prompt to answer before the competition.
57% of the categories DECA offers, such as the Business Growth Plan (EBG), the Integrated Marketing Campaign Event (IMCE), and Finance Operations Research (FOR), have roleplays that allow them to utilize more time, up to 3 months before the competition, to prepare their responses. 
All students who compete in DECA competitions dress in business casual and business formal attire. Some examples of this business attire are listed in their dress code. Some items to wear for DECA competitions include collared button-up blouses, dress slacks, loafers, and blazers for all genders. 
DECA can be pricey, especially as one progresses further into higher levels of competition, such as state and national levels. This year, DECA held multiple fundraisers through a bake sale at the West Newbury Food Market and through a fundraiser held at Chipotle. The cost for each competitor at the state competition in 2023 was $250 for the initial DECA fee and $50 for rooming arrangements. 
DECA is very rewarding despite its expenses. One membersaid, "Before joining DECA, I was barely involved in clubs at Pentucket. I ended up joining and it inspired me to work harder and stay involved."
Every year, those who advance to the state competition spend twonights at the Sheraton Hotel in Boston, MA. They compete at the Sheraton and the Marriott Hotels, which are connected through a mall.
DECA 2023:
DECA 2023 has provided new opportunities for many people. At the districts competition, there were 40 students who compete for Pentucket this year compared to 20 people last year. 
This year, many students who advanced to the state competition believed that DECA this year was more involved. Unlike last year, our meetings were all in-person and held bake sales and local fundraisers to help with expenses. Last year, these events were not able to happen as we were actively using any precautions against COVID-19.
Multiple students made the mistake of not reading their permission slips in full and did not notice how it mentioned we would be required to take a bus home this year, unlike last year. They had other commitments after the competition in the general Boston area and would miss the event if they took the bus back to the high school.  
Voting Delegates
A select number of people from each school can become voting delegates, where they vote for the state officers of the incoming year.My sister and I were the voting delegates for Pentucket. We visited some booths of the state officer candidates to see who we wanted to vote for, but without telling the candidates that we were voting delegates. 
The state officer candidates are aware that voting delegates determine if they become an officer, so they often treat them more kindly. We wanted to see how we would be treated without mentioning we are delegates and knew who we would vote for based on how we were treated.
One state candidate stated their plan as an officer very clearly. She wanted to help expand the DECA closet to ensure that all sizes could utilize the closet, from 2XS to 2XL. She treated me and my sister very kindly, and we made sure to vote for her. She was not elected to become an officer, but I believe she should've won the position.
We visited another booth afterward. The candidate had her friends running the booth while she was away, and they were fairly ignorant toward me and my sister. They talked to us for less than 10 seconds, but the second their friend came around, they didn't acknowledge us and spoke with her while we just stood there. We left after 2 minutes, did not vote for them, and their friend did not become a state officer. 
Indiana Troupe was one of the state officers during the years 2021 and 2022. He stated that "being a state officer has been the biggest pleasure of [his] life because [he's] gotten to meet so many of our amazing members throughout the past two years. Our Massachusetts DECA members are so incredibly talented and [he's] so honored to have led our organization during the very successful time we are in." 
Indiana loved working with so many talented colleagues. He mentioned that "[he'll] be around even after graduating high school to volunteer at DECA events, but [he] knows Massachusetts DECA is in great hands with our new State Action team!" The State Action team consists of the elected state officers by voting delegates and is responsible for ensuring a high-quality experience for all DECA members, such as organizing the DECA closet, website, and trophies.
Grand Awards
The Grand Awards determine who is going to the International Career Development Conference (ICDC). This year, nobody from Pentucket Regional High School placed top 10 in their category or advanced to the national competition. We competed in Entrepreneurship (ENT), Hospitality Services Team Decision-Making (HTDM), Principles of Business Management and Administration (PBM), Human Resources Management (HRM), and the Quiz Bowl.
Final statement:
DECA is a very beneficial program for personal growth, college applications, and school involvement, especially with the help of a great advisor and opportunities for involvement within the association.