Pentucket's Favorite Sports Drinks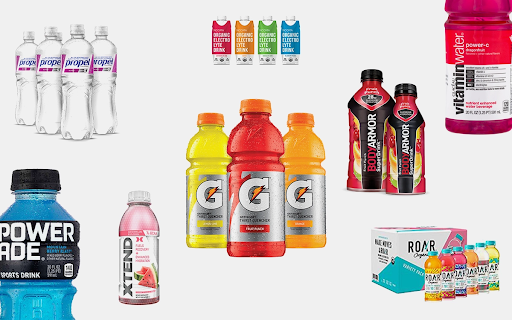 Today, sports drinks are a well-known and popular choice for hydration, recovery, or sometimes even just satisfaction. There are a wide variety of sports drinks to choose from that help replenish our bodies; however, we all have that one sports drink that we enjoy the most. And despite the many different options, Penucket had a similar choice of response.
Now, let us take a look at what the people of Pentucket had to say about what their favorite sports drink is and the best flavor.
Favorite Sports Drink and Why?
Propel was chosen by Junior Tanner Bounsy and Junior Gabriella Bellacqua as their favorite sports drink. "It has a better taste than all of the other sports drinks, and it's way less sugary than they are," said Tanner. 
Propel is another well-known sports drink that a lot of people enjoy. Propel has nutrient facts of zero calories, zero sugar, 70 mg potassium per 591 ml servings, vitamins B3, B5, B6, and electrolytes. Propel is a great choice of hydration during your exercise. This is what makes the Propel feel like such a lighter drink.
Although a few people chose Propel, the two most popular drinks that people chose were Gatorade and Body Armor. 
Many people, including Sophomore Colby Eckholt and Junior Jack Foley, claim that Gatorade is the most delicious sports drink. "I would have to say Gatorade all the way because it is by far the best sports drink out," said Colby Eckholt. 
When Jack Foley was asked about his opinion on Gatorade, he said, "I mostly drink Gatorade because I have been drinking it for a while now, and it's the most simplistic sports drink out and gives me the electrolytes I need." 
The second drink with the most picks was Body Armor. Many people, such as Juniors Jackson Woodsum and Senior Max McDonald said they prefer Body Armor over any other sports drink. With a wide variety of different flavors to choose from, healthy ingredients, superior levels of hydration, and naturally delicious taste, it's hard not to get attached to the Body Armor. "I prefer Body Armor because I like that they take the time to add 10% coconut water. I feel like it makes the drink more refreshing," said Jackson Woodsum.
Most Favored Flavors 
Propel
The most popular flavors for Propel are Berry, Black Cherry, and Watermelon. Tanner's favorite flavor, however, is Strawberry Kiwi. He said that a Propel makes him feel alive after a workout. Gabby also chose Strawberry Kiwi as her favorite. 
Tanner, when asked why Strawberry Kiwi was his favorite, said "I have always been a Strawberry Kiwi guy. Mainly because it still has some sweetness, but it still doesn't taste like it has 30 grams of sugar."
Gabby had a simpler response: "Honestly it just tastes the best," said Gabby. 
Gatorade
The most popular flavors are Lemon Lime, Fruit Punch, and Orange.
Jack Foley said Lemon-Lime was his favorite. "It has the perfect balance of quenching my thirst and giving me a sip of pleasure," Jack elaborated, "Whenever I am thirsty and sweaty during a workout, it always refreshes me." 
"Grape is the best flavor 100%, and it gives me the best sensation in my mouth," said Colby Eckholt. 
Body Armor
The most popular flavors for Body Armor are Strawberry Banana, Tropical Coconut, and Strawberry Grape. 
Gold Berry is Jackson's favorite flavor.  He says, "Gold Berry is my favorite because it makes me feel the most refreshed." 
Max McDonald has Strawberry Banana as his favorite flavor. "It feels like the strawberries and bananas are exploding in my mouth," he says.
With all of these delicious choices of hydration, ask yourself what your favorite drink is that will replenish your electrolytes and quench your thirst at the same time.