The Lack of School Spirit in the Class of 2024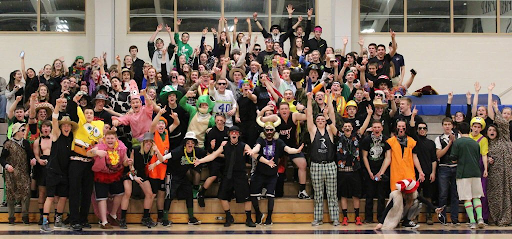 When in high school, school spirit is one of the most important parts of school to have fun. Out of all the current classes in Pentucket right now, I think it is clear the junior class, or the class of 2024, has the least amount of school spirit. Barely anyone goes to the fundraisers or even shows up to school events such as spirit night or sporting events. 
At spirit night, we had a bad showing with the least amount of students to show up, with less than fifty. Some students didn't even wear any red clothing, which was the junior class' spirit night color… it cost $3 to get in but to be in an event was free you just needed to talk to a class officer about being on a team.
The Nitroball tournament earlier this month was a great chance at school spirit, but only a few students went as fans. With the admission fee for fans only being $2, and teams paying a total of $20 to enter. It was one of the cheapest events at Pentucket. Pertaining to the actual game, there were eight teams that signed up before the tournament started, with each team having around six students, so approximately 48 students throughout the whole school were actually playing nitroball. That is a low number of students to show up for a school event.
School Dances Might be the most popular event at our school, and it only cost $5 for entry. Many students like to go to the dances, and with multiple dances a year, it is a great chance for students to go to some events.
The fundraisers help with more than students think. Many students think the fundraisers are a way for our school to get money, but the reality is that the fundraisers go to our class events, such as the senior year field trip or to lower the cost of prom tickets and our graduation. 
Even in sporting events, Pentucket does not have a great amount of school spirit. In the last home game of the boys' varsity basketball team, less than ten students showed up and a few of them left during halftime. In a game we were winning, this showed a total lack of school spirit at Pentucket.
The Teacher's Opinions
Mrs. Barlow, our class advisor, agrees with the majority and thinks that our class is lacking in school spirit. Barlow brought up the fact that on spirit night, the same few kids worked on the color day video and usually one person makes the banner right before they are due. In other grades, more students seem to be involved, or at least more than the same few students every year.
Our class really lacks participation in the dress up days, but spirit week is one of her favorite times during the school year, and she wishes more people participated. 
Even though Barlow is not a student, she tries to go to at least one game for each sport and tries to show up at every fundraiser we have. 
When asked about Covid, Barlow had an interesting perspective. She thought after being separated, our class would be more influenced to get involved since there are no more restrictions. As many students voiced, however, freshman year took away our first experience of spirit week and being a part of the crowd at sports games.
A current teacher and the coach for Pentuckets cheerleading team, Ms Freitas, said that school spirit is important for everyone, and she was "disappointed with the showing of the junior class for spirit night". 
With the current junior class missing most of their freshman year due to covid, and the schedule that switched which days we went to school, it is reasonable that covid influenced a huge drop in school spirit. When Freitas was asked about the effects covid had on school spirit, she said, "Some of the grades missed spirit night, so they might not know what it is," which could have led to the poor showing this year. 
Freitas brought up another interesting point. When coaching the cheerleaders at the football games this year, the student section had a lot of school spirit. A possible reason for the school spirit earlier is the themes for the games, the themes really influence school spirit at sporting events and make it more fun to go to these games. 
The Students Opinions
Junior class treasurer Peter Hart said the school spirit for the class of 2024 is "Alright, but it could definitely be better," he says.Hart tries to attend every event he can, but really prefers the sports games and the random tournaments the classes do, such as dodgeball and nitroball tournaments. 
When asked about how Covid affected our school spirit, Hart said, "Covid definitely had an impact, especially our freshman year."
Since Hart is the treasurer, he knows where the money from class events, dues, and fundraisers go and explained that the money goes to our senior year events such as senior week, our caps and gowns for graduation, the prom venue, and the overall price of the prom tickets.
If the students were more aware of where the money the event raised went to, I personally think that the rest of the students would have more school spirit, possibly causing a ripple effect and more students following.
Junior class president Caleb Meisner agreed with Peter,  saying, "I don't think there's enough school spirit." 
When asked if Covid affected our school spirit, he said it did because we lost part of 8th grade year and "that's when school spirit starts to kick in, and it was thrown off the rails." Additionally, freshman year we could not go to any school events, no sports games, and we could not host any events for our class.
When Meisner was asked about the money from dues and class events, he said they go towards our senior events, and Meisner thinks that the people who do not contribute to fundraisers will be complaining about the senior events later on. 
Now that covid is over, is there truly any reason our class lacks school spirit, or is the class of 2024 just being lazy?