March Madness: Crowning a Champion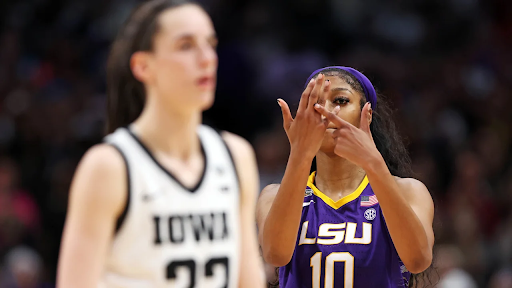 Spring is in the air, as the end of March Madness came to a close this past weekend. One action packed weekend closed the 2023 college basketball season for 132losers, and two crowned champions. On the women's side, LSU won their first NCAA title ever, while the UCONN men's team capped off its fifth national title. Let's take a look at how it unfolded:
Flashback of Elite Eight 
Men's 
#9 Florida Atlantic continues their cinderella story as they upset #3 Kansas on their way to the Final Four. The Owls are on an 11-game win streak and have broken records to get where they are now. According to ESPN, the Florida Atlantic Owls are: the first team to make the Final Four in its first or second NCAA tournament appearance since Seton Hall in 1989, the first 9-seed to beat a 3-seed since 1979, and the third 9-seed to reach the Final Four. 
#4 UCONN beat #3 Gonzaga to head to their 6th Final Four. Although UCONN is not considered one of the blue bloods, they will be trying for their fifth national championship since 1999; more than the elite blue bloods of Duke, North Carolina, Kansas, and Kentucky.
#5 San Diego State beat Creighton 57-56 on a controversial foul call to end regulation. San Diego State is not the cinderella team, but the underdog, and they continue to prove everyone wrong as they keep winning. 
#5 Miami beat #2 Texas to punch their first ever ticket to the Final Four. Miami climbed back from a 64-51 deficit with 13:22 left to play. They tied the game at 79 and Norchad Omier made two free throws to give the Hurricanes the lead with 34 seconds remaining, which gave them the lead for good.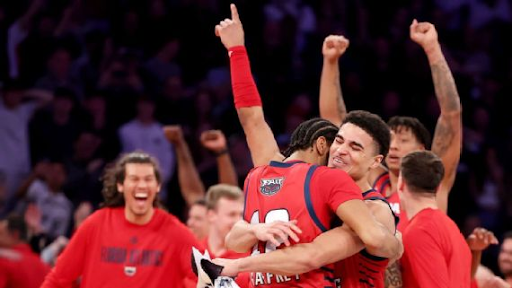 Women's
#3 LSU silences #9 Miami, and sent head coach, Kim Mulkey, to her 3rd Final Four with three different teams. LSU is a favored finalist, but the fans seem to be more interested in what extravagant outfit Mulkey will be wearing next. 
#2 Iowa beats #5 Louisville in a thriller as Caitlin Clark makes history twice. She became the first NCAA player to score 900 points and 300 Assists in a single season. She also became the only 40+ point triple double in NCAA tournament history (men or women). She finished the game with a stat line of 41 points, 10 rebounds, and 12 assists.
#1 South Carolina caps off its 36th win of the season, a school record, vs. #2 Maryland. South Carolina continues their quest for an undefeated season and back to back NCAA championships. If they do so, they will be the 10th team to finish an undefeated season. The last team to go undefeated and win a NCAA championship was UCONN in 2016.
#1 Virginia Tech beats #3 Ohio State 84-74, and danced at center court to the Metalic song, the unofficial theme song of Virginia Tech. Head coach Kenny Brooks came to Virginia in 2016 with the team never making the NCAA tournament, and now they are heading to their first Final Four in program history.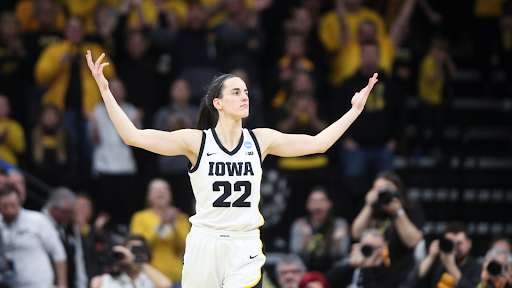 Recalling the Final Four
Men's
Lamount Butler of San Diego State drills a buzzer beater in their win over the tournament's cinderella team, Florida Atlantic. The shot delivered a 72-71 win, after a 14-point comeback and giving them the lead for the first time in the second half.  
UCONN got a decisive win over Miami as they beat them 72-59. Heading into their sixth Final Four appearance, UCONN has never trailed or led by 20 points in a game. UCONN is also one of the 5 teams who have won every tournament game by double digits this year.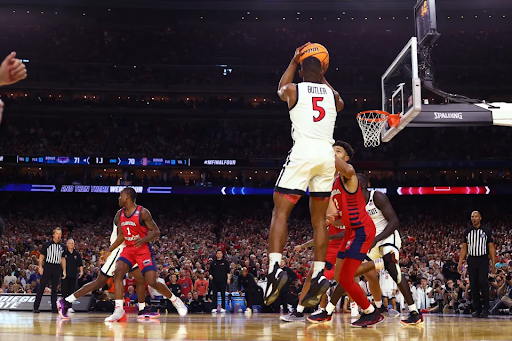 Women's
LSU dominated the fourth quarter vs Virginia Tech to win 79-72. With Kim Mulkey, LSU will be heading to their first title game in school history. Virginia Tech still had an amazing season and Georgia Amoore set a NCAA tournament record of making three pointers. However, the highlight of the game was Kim Mulkey's matching game-day outfit with her granddaughter. 
Iowa gets their biggest win of the season after beating undefeated South Carolina. Iowa ended South Carolina's 42-game win streak, (who haven't lost since March 6th of 2022). Caitlin Clark led the way yet again, with another 41 points, 6 rebounds, and 8 assists; this time in front of a sell out crowd that included tennis legend Billie Jean King.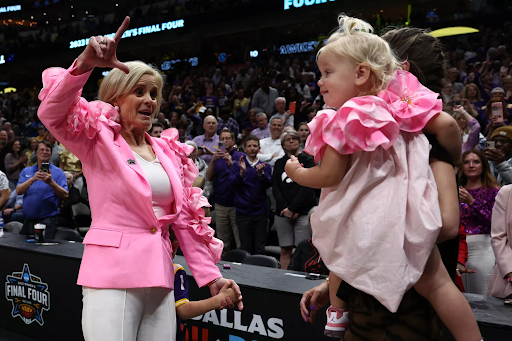 We Have a Winner
Men's:
UCONN vs San Diego State
If they were not before, UCONN should be considered one of the elite blue bloods of basketball after their smothering title win over San Diego State, 76-59. With the win, UCONN brings home its fifth national title, and remains undefeated in national championship games. 
UCONN held a 16-point lead that was trimmed down to five in the third quarter. Thanks to Jordan Hawkins (LSU's Angel Reese's cousin), led a 9-0 run that would put the game away. This entire tournament UCONN was undefeated when they led by double digits.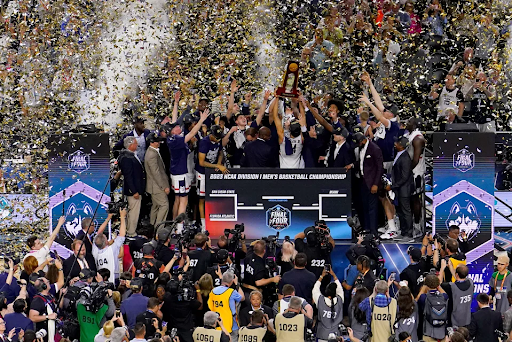 Women's:
Iowa vs LSU
In the beginning of the season, LSU had nine new players on their roster, and zero expectations. Nobody expected them to go very far, let alone win their first ever national championship in school history. 
Led by senior stars Angel Reese and Alexis Morrison, LSU put on a show against Iowa. Jasmine Carson came off the bench and gave LSU the lift they needed. At the end of the first half, she finished with 21 points, 7-7 from the field, including 5-5 on three pointers. 
LSU scored 102 points in their 102-85 win over Iowa, the most points ever scored in a NCAA tournament. With that, Kim Mulkey kept her introductory press conference promise as she led her team to a national championship, her 4th national championship with three different teams. 
In other news, Angel Reese received backlash for her taunts towards Caitlin Clark at the end of the game. The gestures included pointing to her ring finger and doing the "you can't see me" wave in front of her face, which Clark did earlier in the tournament to another player. 
In her post game interview, Reese said, "I don't take disrespect lightly, and I wanted to pick her pocket, but I was in my moment." She added that "there is no beef between me and Caitlin."
Now whether what she did was right or wrong, Clark defended her in a recent interview. She said, "[LSU] should never be criticized for the taunting" and that trash talking is a part of the game. She ended with, "Men have always had trash talk. You should be able to play with that emotion. That's how every girl should continue to play."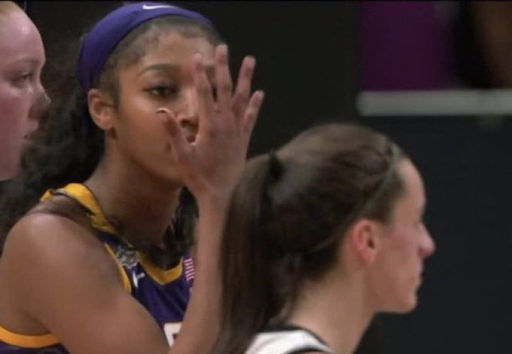 Viewership
This year's D-1 NCAA women's national championship was the most viewed basketball game on record with 9.9 million viewers averaged, and 12.6 million peak viewers. Overall views are up 103% from last year's championship game. Check out the women's game in photos. 
On the flip side, this year's D-1 NCAA men's national championship was the least watched game on record, with 14.69 million viewers. Check out the men's game in photos.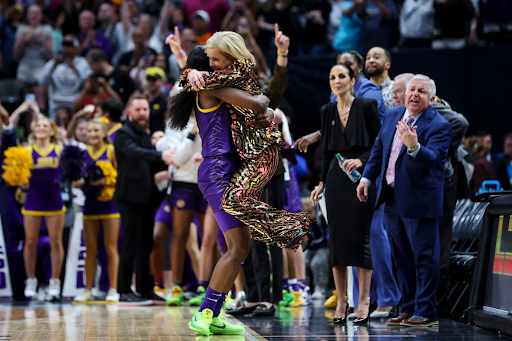 Yearly Awards
Women's
Naismith Women's College Player of the Year: Cailtin Clark, Iowa
Naismith Women's College Defensive Player of the Year: Aliyah Boston, South Carolina
Naismith Women's College Coach of the Year: Dawn Stanley, South Carolina
Associated Player of the Year: Caitlin Clark, Iowa
Wade Trophy: Caitlin Clark, Iowa
John R. Wooden Award: Caitlin Clark, Iowa
Most Outstanding Player of the Year: Angel Reese, LSU
Men's 
Naismith Men's College Player of the Year: Zach Edey, Purdue
Naismith Men's College Defensive Player of the Year: Caleb McConnell, Rutgers
Naismith Men's College Coach of the Year:  Jerome Tang, Kansas State
AP Player of the Year: Zach Edey, Purdue
Freshman of the Year: Brandon Miller, Alabama
Defensive Player of the Year: Jaylen Clark, UCLA
Sixth Man of the Year: Sir' Jabari Rice, Texas