Big Things Happening in Athletics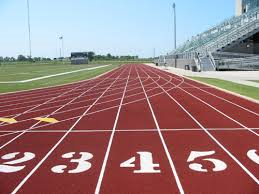 Pentucket Regional High School has big plans for next year.   One April 29th, 2014, the towns of Merrimac, Groveland, and West Newbury approved the school's budget which included plans to finally upgrade and repair athletic facilities on the school's campus.  The $2.6 million in improvements will build a new 8 lane track, 6 tennis courts, a softball field, a field hockey field, and a multi-use practice field.  Yes, the district will finally be replacing the track that easily should have been replaced a long time ago, but I guess it is better late than never.
In order to pay for the improvements $700,000 from a previous bond will be used, as well as $495,000 from a supplemental relief account.  The remaining $1.4 million will be borrowed and paid off over the next 20 years.
What you may not know is that on top of the new athletic facilities and such, Pentucket High School plans on cutting all sports user fees in half.  This is really good news for all student athletes, but more importantly for their parents that have been paying the fees for years.
Cutting athletic user fees in half will benefit everyone, but it is especially good news for Pentucket hockey players that have shelled out a whopping $850 per season to play………..Now if only there were plans to build a hockey rink.
Source:  Solis, Jennifer.  "Voters OK athletic complex upgrades".  Newburyport Daily News 30 April 2014: web.
Leave a Comment