A Review of Lost Girl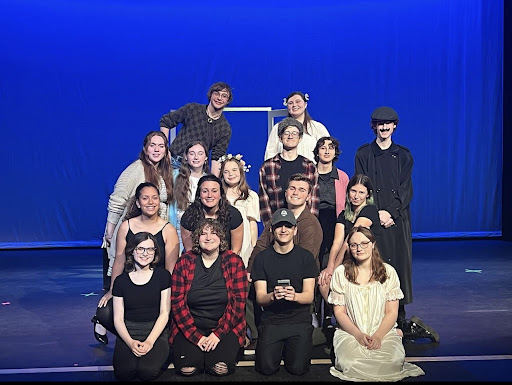 If you have been watching Pentucket's music and theatrical productions recently, you have seen Lost Girl. This show was a change of pace for Pentucket, especially considering the drastic changes the theater group had to go through to put the actual performance on. Also, with a change in directors and the ability to use the school's spaces, it has been hard to utilize everything to its fullest potential. Even so, the show was a success and, in my opinion, did wonderfully!
Lost Girl is a show all about the aftermath of Neverland on Wendy (played by junior Emily Gleason) as she navigates through life after her traumatic kidnapping. She faces many of the same insecurities and anxieties everyone can relate to. I think the viewer can find a piece of themselves in her performance, and the story is such a beautiful portrayal of what it's like to be under the external stresses of the world while you are trying to become a better person.
Lost Girl is a show that also heavily discusses mental struggles and illness. It is an incredibly mature play, and it was amazing to see each actor put their own experience into their role. As someone who was in the show, it was interesting to see so many new faces come to Pentucket Theatre, especially when the spring musical is usually the drawing factor of the year. 
Asking some students how they felt about this change drew a mixed bag, as some felt unsure about the differences between last year's and this year's show. However, one anonymous student who liked the change said, "I always feel a bit more comfortable doing a play over a musical, so it's exciting to do something different in the spring. Lost Girl is different from what Pentucket has done before, and I know it will be a positive experience for everyone!"
Another significant change for Pentucket was the switch in directors. With Mrs. Magowan out due to an injury, the group thought there would be no hope for a spring show. Thankfully Mrs. Snow stepped up to the plate, giving us a chance for a spring performance. It was so impressive to see her balance of work, life, and two shows over the course of Lost Girl's Production. This was also a special moment for Mrs. Snow as it was her first directed high school production!
I love to see the passion that she puts into the direction of the show. When asked why she choose Lost Girl, Mrs. Snow stated, "I love Lost Girl because it's an ensemble piece that gives the actors a chance to delve deeply into their characters' mindset".
Personally, there's no one on par with Mrs. Magown like Mrs. Snow. She has been raised by Pentucket thearter so it's easy for her to adapt. She says, "I love directing Pentucket theatre. I am so proud of the fact that I work at the school I went to. I loved doing theatre as a kid and it's so wonderful to see how the program has remained so strong throughout the years. This was my first time directing a high school show, but I have directed PRMS shows".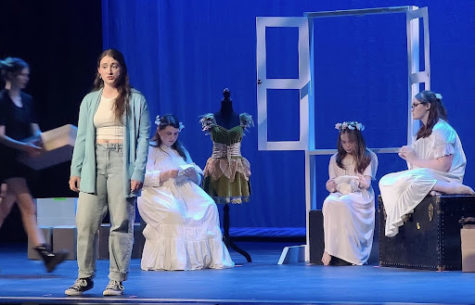 It was really interesting to see the difference in directing between middle school and high school students. She says, "The difference between the high schoolers and the middle schoolers is that the high schoolers already have an established love of theatre. The middle schoolers are mostly new to the stage and are taking a big leap by doing the musical". I can definitely see the truth in that. So many middle schoolers are just trying to find what they are interested in, which leads to many differences in experience/performance. It's so cool to see the new middle schoolers finding a new love of theater. 
Mrs.Snow takes a different approach to directing shows, and I think it works to keep a safe and calm environment for all of the Pentucket theater students. Even when we have faced setbacks and challenging times during this production, she works tirelessly to ensure everyone not only puts on a good show but also has fun.
While there were some speed bumps in the overall process, I thought Lost Girl was pulled off amazingly, and I was so proud to see all the first- and second-year students in their essential element. This show brought the group together while introducing new components to our performances.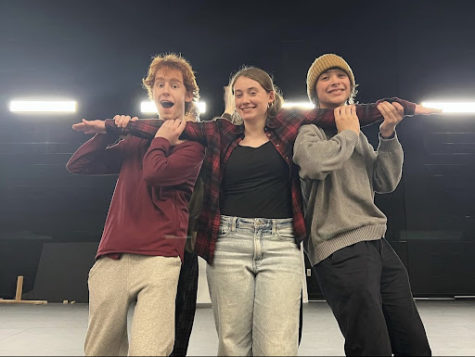 Lost Girl reinforced the importance of theater in our school, as it brought many people together and gave many new opportunities. Plays not only provide entertainment but also promote creativity, critical thinking, and teamwork among students. This was shown by not only the talented cast of students but Mrs. Snow's impressive directing.