College Tours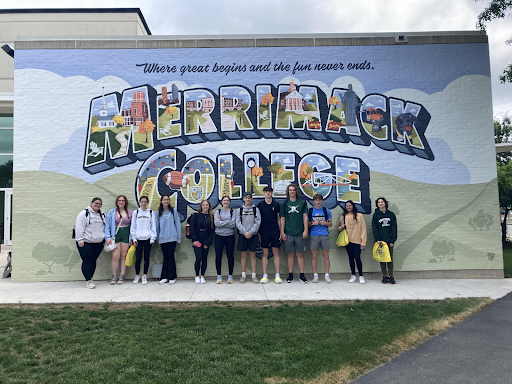 When a teenager reaches a certain point in their high school career,  the discussion of colleges comes up, of course college is not the only option for someone, but for people who are interested in college, college tours can be a great start for anyone interested.
Every year here at Pentucket, they offer college tours to the 9th, 10th, and 11th-grade students, a process where you pick three schools on a given list, research them to understand their history and academics, and then are assigned one of your three choices.
The college tours this year took place on Friday, June 9th, and the schools to choose from are the following; University of Massachusetts Lowell, Merrimack College, Endicott, Southern New Hampshire University, Rivier College, Fisher College, Salem State University, College of The Holy Cross, and  Massachusetts College of Art and Design. 
All of these colleges have much to offer. From the location to their honors programs, students visited the colleges that were best for them.
Our Experiences
Both of us toured completely different colleges and here we both thought of them and what we wished was better. 
Salem State University
I, Clara Cavallini, a sophomore at Pentucket High School, toured Salem State University. Located in Salem, Massachusetts in its busy downtown district.
Salem State is filled with many opportunities and several programs that can help students during their years in college. 
When my tour group first arrived, we were given drawstring bags with pens and many different pamphlets advertising the college. My tour guide gladly offered my group bags and any information about Salem State we wanted to know.
Although, because of freshman orientation, my tour guide couldn't take my group into many of the buildings. The tour was mostly walking outside for two hours looking at important buildings but never entering them.
These overlapping tours pushed my tour to the side. On my tour, I couldn't see the dorms, the lecture halls, or even the dining hall. My tour guide did her best and shared all of the information she could about the school without actually being able to access the buildings. 
There are many things I wish I could've seen on my tour, but the experience was nice and so was my tour guide.
In the end, my tour was fun and very informative. It really made me think about where I want to go to school and what I want to do in college.
University of Massachusetts Lowell
I, Kailyn Cray, also a sophomore here at Pentucket High School, toured the University of Massachusetts Lowell (UMass Lowell). The university is located right in the city, a public, research university which has a lot to offer its students academically. 
Overall I enjoyed it. The tour guides and people were very nice and welcoming to the tourists, and the campus and environment were also very nice to observe. As well as learning about their sports and school background. 
First, we all went into a room, took the guest survey, and learned about the statistics, majors, minors, and everything else relating to a college. In addition, all of the tour guides introduced themselves to us and what they were currently studying. We then broke up into groups and began exploring!
Compared to last year's tour, there was a large variety of students attending these tours, not just a large number of freshmen, but a good mix of freshmen, sophomores, and juniors. 
Although I enjoyed most of the tour, it seemed very bland to me and felt rushed. We did not really explore campus life or take a look into other students' lives. We really just looked in the windows of labs and walked down some pretty claustrophobic hallways. 
Also, compared to Claras' experience, Salem State tourists were given cool merchandise like backpacks, pens, and more, and we were not, which would have been cool. 
Even though touring this school may not have been that interesting to me it was still super neat to explore, see the overall school and city, and think about the future!
Conclusion
All in all, no matter the experience, touring future potential colleges is always beneficial, just to even get a look into the college and where everything is always helpful. 
Although both of us had different experiences and opinions of the colleges and their tours, we both understand they are helpful and are also a fun way to get out of our everyday classes.
Overall, college tours are important and should be interesting and enticing. They are the introduction to a whole new chapter of someone's academic career and life, and even if the school you toured was not everything you wanted, it is still good to get out there and explore future possibilities.