History of the Stanley Cup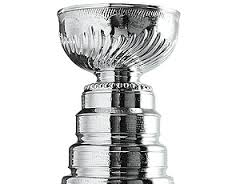 Let's face it.  Where would playoff hockey be without the Stanley Cup Trophy?  The Stanley Cup, which has come to be considered the holy grail of hockey, has its origins in Canada in 1892.  Sir Frederick Arthur Stanley, the sixth governor general of Canada, developed the cup as a challenge trophy simply because there was not one in existence.  Stanley loved the game of hockey and decided to create some sort of championship cup that would be held from year to year by the current champion hockey team, in what he considered the Dominion of Canada.  As a result, the Dominion Challenge Trophy was born.
Although the Montreal Hockey Club won the first cup in 1893, it did not retain possession, the directors of the Montreal Amateur Athletic Association did. However, that following year on March 22, Montreal would go on again to defeat Ottawa 3-1 during the first Stanley Cup series.  At that time the names of the winners were engraved on the cup and the rest is history.
The Bruins hoisted the cup in 1929, 1939, 1941, 1970, 1972 and 2011.  Hopefully at the end of this current Stanley Cup series, the Bruins will once again hoist it up.
Source:  McKinley, Michael.  Hockey a People's History.  McClelland & Steward
Leave a Comment