Too much "Heat" for LeBron?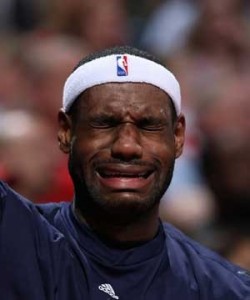 After the air conditioned failed during the first game of the NBA finals between the Miami Heat and San Antonio Spurs, Heat Forward LeBron James was forced to leave the game due to cramps.
And no, you did not read that wrong. LeBron left the NBA Finals with cramps. If I was playing in the NBA Finals, you would need to rip one of my limbs off to get me off that court.
Also note that no one else had to leave Game 1 due to cramps, and that this is not the first time LeBron has left a game due to cramps.
Seriously LeBron, either tough it out, or drink a Gatorade, do SOMETHING. You have to have a little more will power if you want to compete in this series, especially verse a against talented San Antonio Spurs team. LeBron had this to say about his cramps in a postgame interview:  "I was losing a lot [of fluids] throughout the game. It was extremely hot in the building, you know, both teams, fans, everybody could feel it. I was the one that had to take the shot." And now you have your typical LeBron excuse. If "everybody could feel it," how come there weren't other players with cramps exiting the game?
Obviously everyone will get a cramp once in a while, it's just the mental weakness of LeBron and the postgame excuses that is simply unacceptable when you are playing the best of the best in the most intense and vital series of the season.
Kobe has played through bad ankles and a sore back.
MJ dropped 38 points in a 1997 NBA Finals game with the flu.
Pierce came back in 2008 against the Lakers, after injuring his knee.
What will your legacy be LeBron?
View Comments(1)