What Happened to Our Girls?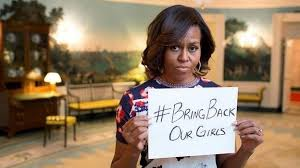 In April of 2014, hundreds of girls from the Chibok Boarding School in north east Nigeria awoke to the sound of gunfire and the echoing steps of men in camouflage.
More than 270 young girls found themselves held captive by the Islamist militant group, Boko Haram.  Their abduction sparked global outrage and a calling for their rescue with the hashtag #BringBackOurGirls
It has been 5 months since their abduction; what has happened since?
Not One Student has Been Rescued
In the first days after the abduction, 57 girls managed to escape.  However, since then, not one girl has been able to escape or rescued.
They Were Reportedly Located Months Ago
In May, a Nigerian Officer claimed he knew where the groups were located.  Then in June, a United States surveillance plane also spotted a group that they thought to be the girls.  Many accused the Nigerian government of funding Boko Haram.  The countries government officials claim the only reason they haven't acted yet was because they fear it will put the girls' lived in jeopardy.
Other Countries Have Made Little Progress
Countries offered their help to try to locate the abducted girls.  In late May, the United States sent 80 troops to conduct an aerial search in Chad.  France, Canada, Israel, and the United Kingdom also sent Special Forces to Nigeria.  However, six weeks later the United States pulled the troops out.  The Pentagon Press Secretary claimed that "we don't have any better idea today than we did before about where these girls are."
The Girls' Hometown is in Danger
Residents of Chibok are constantly under threat of attack from militant groups.  Boko Haram officials have crept by nearby villages, only three miles from Chibok.  Sadly, 11 parents of the kidnapped girls have been either killed by militants or died of illness.
Boko Haram's Violence Continues
Since April, Boko Haram has taken five towns in north east Nigeria, although the Nigerian government claims to have won them all back.  They have also kidnapped at least three more groups of girls, and some young boys and men; some whom have escaped.
More than 2,100 people have reportedly been killed by Boko Haram since April.
Nigeria's Government Remains M.I.A
Nigeria's government remains unfit to take on the challenge to find these girls.  Blaming it on their lack of weapons, at least 40 soldiers refused to fight Boko Haram as of August.  Also, during battle over 600 soldiers fled the scene to Cameroon, the army covered for them.
It's All about Image in Nigeria
Nigeria has reportedly sent 1.2 million dollars to a Washington Public Relations firm to change the media narrative surrounding the girls' abduction.
Help to #BringBackOurGirls. It's time to make a change!
Leave a Comment