A+ For Our Coaches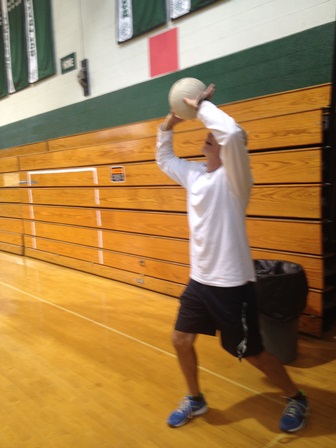 At PentucketHigh School, many students and faculty take pride in the athletics associated with the school.  A majority of the student body participates in sports, however what may not be as recognized is the amount of Pentucket's staff that plays a part in the school's athletics.
For many of the sports, teachers are also coaches.  These said sports include: football, boys soccer, girls cross country, field hockey, indoor track, boys' basketball, outdoor track, and (lacrosse).
Girls' cross country coach and English department chair and teacher, Mr. Ruland, expresses his love for both teaching and coaching.  Ruland explains "I started coaching because I love to run.  Even though I never did cross country in high school, I think it's something amazing for everyone."
Like students who do sports as well as academics, teachers that coach experience the struggle of time management between their coaching and teaching their students?  Mr. Langlois, Pentucket's physics teacher and boys' varsity soccer coach "it definitely makes it harder to get everything done when I have to prepare for classes and continue the regular education but it is also rewarding in the sense of if I didn't do it, I wouldn't feel the same."
\Many student athletes enjoy having someone who is familiar as their coach.  Junior AP English student and cross country captain, Sophie Capobianco, says "I like having a coach who is also my teacher.  In both settings, I feel completely comfortable and normal.  At school he's a definite teacher, and at sports he's strictly a coach."
Mr. Ruland is not the only teacher/coach that students at Pentucket have.  Mr. Angelli is a Pentucket math teacher, but also a former six year soccer coach.  He started coaching his first year of teaching and says "it made it a lot easier for me to adjust to the school because I was already introduced to a good portion of my students, prior to the first day."
David Greene, a Pentucket student and soccer player, had both Mr. Angelli as a teacher and as a coach.  He described it as a "brave experience having him both in class and after school.  Though he was not my teacher the same year he was my coach, it was definitely a cool time."
Teachers take both pride in their jobs and in their relationships with students.  Many teacher-coaches find it easier to gain trust and understanding of their students/athletes.  Pentucket's physic teacher says "If I had to choose between teaching or coaching full time, I would by far, rather teach.  When you teach, students you have them for a full year and see them improve during the time period.  In coaching, you only have the kids for a season and while there is improvement, it isn't as drastic."
Pentucket's staff creates an exemplary coaching system with the school's various athletic records as proof.  Regardless of why or how the teachers got their coaching jobs, it has been benefiting the school as a whole.
Leave a Comment