GSA is Back!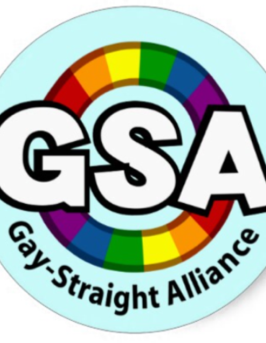 An intergalactic alliance of people, all fighting for the same thing: rights. A coalition of people, all trying to make the world a better place–for everyone. Would you like to be one of these capeless crusaders and enjoy free, delicious food every Tuesday? Join GSA!
The recently reborn Gay Straight Alliance, led by seniors Quinn Castine and Rebecca Smith, is "for students who want to expand their horizons," said Castine. Advised by both Ms. Ducolon and Ms. C.C., past meetings have discussed stereotypes–pertaining to both gender and sexuality–identity, and, most recently, the suicide of transgender teen Leelah Alcorn.
GSA is an essential component of any school–an entirely safe, judgement-free zone that also happens to provide delicious food. Castine clarified, that "even though the title only says 'Gay Straight Alliance,' we're open to all genders and orientations."
Want to have a safe place to discuss any relevant problems you are facing, have, or noticed?
Want to eat free food and see if Castine dons a Honer-esque blue mohawk as has been promised?
If you answered yes to any of these questions, come on down to Room 56 every Tuesday after school.
Leave a Comment