NAILS.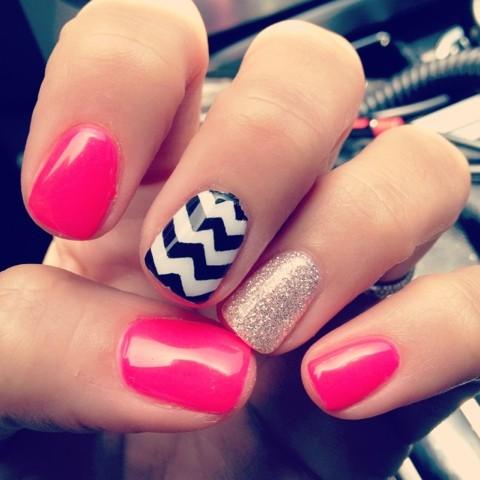 Wearing a huge smile, you walk confidently into a nail salon, excited to finally be getting your nails done. Assuming that you're being straightforward, you say that you would like a manicure.
Upon this seemingly simple request, the beautician proceeds to ask you a question.
All of the sudden, your self-assurance is diminished and transformed into a state of utmost uncertainty and extreme confusion. She asks you:
"What type of manicure would you like: gel, acrylic, or basic?"
You nervously think to yourself, "Oh. My. Gosh. WHAT DO I CHOOSE? WHAT ARE THE DIFFERENCES BETWEEN THEM?!"
Worry no longer because here they are:
Gel:
How do they work? 
This is a relatively new technology in the magical world of fingernails.
The first thing you need to do, obviously, is select a color. Then, your manicurist will do basic nail grooming. Like regular polish, gel requires a base coat, two coats of your chosen color, and a super gorgeous and shiny top coat.
After each layer of polish, he or she will pull out a UV or LED light device, and you stick your hand in it for approximately 60-90 seconds per coat.
What are the benefits?
-Gel provides your nails with both the thickness and strength of acrylic nails, yet the feel and look of natural nails.
-Gel polish can typically last anywhere from two to four weeks; however, after a little while, your nails will grow out and your plain nail will begin to show. (This kind of mimics the way roots grow out in the hair dying process.)
-The shine of gel nails makes them look incredible. It constantly appears as if you just got your nails done.
-With gel nails, the UV/LED light allows the polish to dry instantly so you don't need to worry about smudging.
-They never chip. #Flawless
What are the cons?
-When getting gel nails, make sure that your nail technician is using an LED light system, as there is evidence that UV light systems could potentially cause cancer.
-Getting gel nails taken off is an incredibly tedious process. Usually, your nails need to be soaked in acetone for ten or more minutes. After the polish has softened, it is then scraped off. (Most salons will take off the polish for free; however, there are salons that can charge clients up to ten dollars for removal!)
-The look of your nails after getting gel taken off is borderline depressing. They tend to be dry and brittle. Not cute.
Basic:
How do they work?
This procedure is essentially the same as gel; however, the only fundamental difference is that, instead of putting your hands inside a fancy light machine to dry, you put your hands in a nail dryer (the ones with the small fans in the back) and station them there until you feel as if they are dry enough.
What are the benefits?
-If you are on a budget, this process is probably the best for you. It is the cheapest manicure method.
-It causes little to no damage to your finger nails.
-The polish is lightweight and easy to manage.
What are the cons?
-Smudging is incredibly annoying with this process.
-Chipping can occur very quickly, making your nails look less fabulous. It probably has one-third the life expectancy of gel.
Acrylics:
How do they work?
(When explaining acrylics, I'm going to describe this approach starting with bare, natural nails- as opposed to already having the fake ones on.)
Undoubtedly, acrylics are the most different and arduous of your three options. The first thing your manicurist will do is cut and buff your natural nails. Next, he or she will put fitting plastic tips on your nails, cutting the tips to your desired length.
After that, a translucent protector-like setting coat is applied. When this is done, he or she will proceed to take a brush dipped in a clear liquid (resembling nail polish remover) combined with either a light pink or white powder. This mixture will then be sculpted onto your nails, allowing your nails to be shaped and properly evened out.
Post-scuplt, your manicurist will use a small machine to buff out and file your acrylics. After this is done, you are to wash your hands, and then he or she will paint your nails following the same operation of gel and basic.
What are the benefits?
-If you have short nails and desire long ones but don't have the time or patience to grow them out, this procedure is for you.
-If you break an acrylic nail, you can almost always fix it at home.
-The removal process is no where as time-consuming as gel, and can be incredibly fast and effective when done by an experienced nail technician.
-They are very strong; therefore, they have a long life expectancy.
-Typically, acrylics are cheaper than gel.
What are the cons?
-They can cause damage to your nail beds, making them vulnerable breeding grounds to both fungus and bacteria.
-If you're going for a natural look, this may not be the best option for you as they tend to look artificial, especially when applied poorly.
-A side effect of acrylic nail application is the harsh fumes produced by strong chemicals. With this being said, it is not recommended for pregnant women or people who have a severe intolerance for such smells.
Leave a Comment