Interview With Our One and Only Ms. Young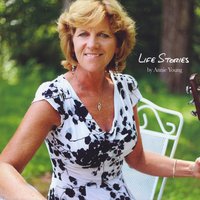 Journalist Cecilia Smith recently interviewed famous singer and songwriter Ms. Young, who also happens to be one of Pentucket's very own Middle School teacher. During the interview, Ms. Young discusses her career, inspirations, and experiences. Read on to learn about the fascinating and intriguing words quoted directly from Ms. Young.
What inspired your CD?
Oh boy, that is a long one to answer. I have been writing songs since I was 8 years old. I never felt my guitar playing or my voice was of professional quality—just average–so I was probably too fearful to put myself out there.  And I had a lot of people in my past life who put me down a lot, so I struggled with sharing my songs; yet, I kept writing and playing  in private.  I played only for a select group of friends and family. Not a lot of people even knew I played and sang. And finally, this past summer, I found the courage to take a leap of faith. I said to myself, it's now or never, just take the chance.   I have always wanted to hear what my songs would sound like in a professional recording studio, and I was so very lucky to have found the perfect studio and producer for me, in James Predergast at Mill Pond Studio Portsmouth.  He is a pro session player/producer with over 25 years of experience working in Nashville, making demos and playing on well-known artists albums. And honestly, when James and I first recorded "Enchanted," and I heard the play-back, I was totally blown away by how it sounded.  It was one of the most amazing experiences of my life.  And I thought, wow, why did I not do this sooner?  I am so grateful to Jim, for his incredible guitar work on this CD, and his production acumen—and he  knew just how to work with my voice and bring out the best in my songs–we were a team.  He helped me believe in my talent, and other people are kind of blown away, so it makes me feel so happy I put myself out there after all.
How long did it take to write the songs? The entire CD?
Many of those songs were written throughout the years when I was in my late twenties to my early forties.  Those were big years, having a kid, getting married and divorced; moving from Florida back to New Hampshire, changing careers– so there was a lot to write about. So those songs reflect a long arc of my life and most were written a long time ago. I do have many more recent songs I am excited about, that I want to add to the CD next summer.  The plan is to make it a full 10-11 track CD by then.
The actual recording process was pretty quick! Time is money in the studio, so Jim was really great at getting right to work laying down tracks.  Some of those songs took only an hour to record.  I asked him for a simple production; just guitar and vocals, at first, because my original intent was to make a couple of demos to try to sell my songs, maybe in Nashville.  But we both ended up being so excited about what they sounded like, we decided to just go on and make a whole EP (a short CD) of four or five tracks.  Then we both decided we wanted to add more to those original stripped down versions—so I added some harmonies to a couple songs, and he added extra guitar parts, bass and drums to some of the more up-tempo songs—we were having so much fun.   I am truly proud of the end result—how professional it sounds–and happy that I invested the time and money into the project.  Honestly, I think a lot of songs today are over-produced—too thick and heavy sounding. A good friend of mine, an outstanding professional songwriter I admire, once told me, if a song is truly worth its salt, it can deliver with vocals and guitar alone.   I took that advice to heart.  Sometimes, simpler is better.
Who would you recommend your CD to?
Well, they seem to appeal to those around my age because the songs are about life experiences many of my friends have gone through.  I guess my sound is a kind of throw-back to the Seventies, folk/rock/country era—I was so lucky to have such good songwriters and influences as my generation's icons: CSNY, James Taylor, Fleetwood Mac, Joni Mitchell, Bonnie Raitt, Linda Ronstadt, the Beatles, Jackson Browne, the Eagles, on and on—and of course, I loved Motown and early Michael Jackson, Aretha Franklin and Janis Joplin from the Sixties.  Those were years of people with such ground-breaking talent—and soul. The lyrics were just as important as the sound and the genres were very mixed in those days, folk-rock, and R & B; It was an incredible time in music history, and I was lucky to be a kid through all that.  Those are my influences.
But I think the songs I write could really appeal to anyone, they are not just folk, rock, or country—it's a blend, for sure.   The topics are easy to relate to.  Although the ballads are pretty heart-wrenching, I also wanted them to have a feeling of hope and be uplifting, too.  I think you can feel the joy I experienced recording these songs.  It comes through in my voice.  
What is it like being a teacher, an author, and a songwriter?
I think it's important when you teach to be willing to still be a learner.   To remember what it is like to put yourself out there, to grow as a writer, not to think you know it all.   I have plenty of goals left to meet. This summer, I was working on my second novel, and then the songwriting took off, and I ended up focusing on that instead—but the novel is there, waiting to be finished.  I think first and foremost, I am a writer– that I get to share that experience with my students, I think, makes me a more empathetic and better teacher.
It's hard sometimes, balancing it all, that is for sure!  Teaching is very time-consuming, especially being an English teacher—endless, endless grading.  So, summertime is when I really get to pursue my own writing.
What did you struggle with?  What came to you easily?
I think writing a novel is one of the hardest things in the world, satisfying, exciting, but really, really hard.  It does not come easily.  Getting published, getting your work out there can be even more frustrating, and you have to be willing to face a lot of rejection and criticism.  So I can share that with my students as well. I know what it feels like to have your work critiqued!  But the risk is worth it, if you want to get better, or you want to make any money doing it.
The songwriting, for me, has always come pretty easily. It is just the way I process and work out obstacles or aspects of life that I have questions or strong feelings about.  The answers come to me, often, in the form of songs or poems.  But you do have to work at it continually to improve.  It's like a muscle you need to keep flexing.
Would/will you release more songs? CDs?
I am so excited to get back into the studio!  I cannot wait to finish this CD.  Yes, I hope this is the beginning of a long journey into the world of songwriting and recording.  It's so fun to let these songs get out, sharing them with people. I have at least 50 more songs to record.  I just need to make back some of the money I have spent on it first!   But to hear that people really like the songs and are moved by them is so powerful, after years of keeping them to myself–one guy even told me one of my songs changed his life ("Enchanted") and helped him through a very tough time …how much better does it get than that?  It is so rewarding to hear people say that because other peoples' songs have always been very important in my life.  Music is the soundtrack to life—it's true.
How long have you played guitar?  Written music?  Do you have formal training?
I have played guitar since I was kid, more seriously as an adult. I took lessons for three or four years in my late thirties and played every day. That was when I got more serious about songwriting ,too.  I am not a trained singer, and I could learn a LOT more about music theory than I know now. I do think some people just have an intuition about how to come up with a melody—I seem to have been born with that.  I am no Mozart, but I can write a simple melody just by messing around with chords and words. I want to learn more in that area, for sure, when I have more time.  One summer, or in retirement—ha!
If the CD could be represented by an animal, what animal would it be?  What color?
Wow. What a cool question. I think it would definitely be a bird:  a white seabird, maybe, like an arctic tern, dipping over the waves and flying in front of a rosy-orange sunset.    A little bit heavenly, but definitely part of the earth.
What message does the CD (as a whole) send/what message is it intended to send?
I love the poem by Emily Dickinson, "Hope is a thing with feathers that perches in the soul". That poem kind of says it all. We all have storms; we all have losses and dark times.  Keep hope alive through them- if you can.
Also, don't take yourself too seriously. 
Which song was the hardest to write?  Easiest?
I guess songs are generally easy for me, at least first drafts. But I revise a lot, sometimes that process takes a few days, sometimes years. I wrote "Slow Parade" a long time ago, about the loss of my father, but I also lost a life-long friend just recently to suicide. I had known her since we were kids. That line about her was a revision I added to that song just when I recorded it.  I love that song, but it still makes me cry when I hear it.  It was hard to record only because I wanted to honor the people it speaks about, and I knew my friend's family would hear it. It meant a lot to me to get it right, but it made it a little hard to sing without getting too emotional.  I'm glad I had a way to pay tribute to her in a lasting way.
What do you see in the future?
My future right now is unfolding in highly unexpected ways.  So, I am just taking one day at a time. To be able to sell my songs would be a dream come true.  To finish my second novel and have it sell. Here's hoping!
Where can people listen to your CD and learn more?
It's available at CD BABY online, or, believe it or not, on Amazon or ITunes for download.  I still can't quite believe that myself.  I was also picked up by an Internet Radio station called Women of Substance Radio (WOSR) and you can hear me on that station, or on a podcast they did featuring my song, "Enchanted." If you go to their website, it's podcast number 221. I am still trying to sell some of my songs "out there" in the "big world and maybe find a song publisher.  My daughter helped me create two simple You Tube videos of "Enchanted "and "Slow Parade." I could not have done those, or the CD cover design without her.  She is such a talented photographer and graphic designer.   I never really had the desire to become a performer, but I have had some offers to play out, at restaurants and the like, now that people are hearing the CD. I never expected any of this to happen, to be honest.  It's very cool, and a little scary.  Sometimes, once you open a door, good things begin to come through it.  It just took me a long time to open it!  So that would be my advice to you…be brave enough to try a dream.  You never know what might happen.
To listen to or purchase Ms. Young's CD, go to http://www.cdbaby.com/cd/annieyoung
Leave a Comment