Meeting Bernie Sanders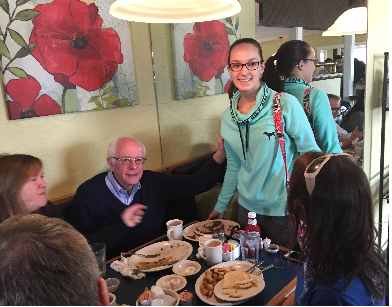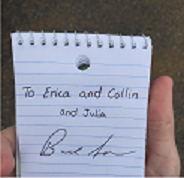 Walking into the small town Corner View cafe in Concord, New Hampshire that has been a regular eatery for my family for years, then seeing my favorite presidential candidate was heart-stopping. It took me almost an hour to build up  the courage to talk to him and express my support for his political policies and ask for an autograph. My mom wouldn't do it for me because she wanted me to go outside of my comfort zone because soon I'll be in college and won't have her around to do these kinds of things for me. She helped me realize how upset with myself I would have been if I didn't talk to him. I finally mustered up the courage and walked over and said, "Excuse me Senator Sanders I just wanted to say you're my favorite candidate and I really admire you. Can I have your autograph?" 
I can honestly say he was one of the most kind and genuine people I have ever met.  My mom had her camera ready and she asked to take a picture. He said, "Sure, of course that's okay." He and his entourage even encouraged me to move closer to him to take the picture. I think the fact that he is touching my arm in the picture shows how caring he really is.
I ended the interaction with, "Thank you, I can't vote but you have my brother's vote!"
I was elated four days later when he won the New Hampshire primary democratic vote. 
Leave a Comment