Popping the Question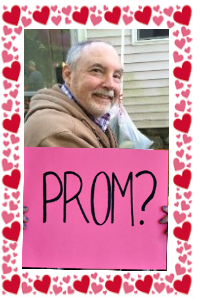 Over text? Over the phone? Or in person?
A friend? A romantic pursuant? Or a random person?
How and who to ask to Prom are questions rolling through the minds of upperclassmen throughout Pentucket.
Prom is in the air.
Take your classic promposal; a worthy gent and a saucy lady. He comes to her window on a warm spring night with a cleverly crafted poster asking the big question. She runs down, grasps him in her arms. Next thing you know they are posing for photos in front of the majestic facade that is Pentucket High School at Promenade.
But it's not that simple. Different situations call for different promposals. There isn't a "perfect" way to pop the question.
The scale of a promposal can range from a quick text to an organized gathering of tons of people.
Gone are the days of the guy asking the girl he has a crush on. Now, students take their friends, and same-sex couples (both friendly and romantic) attend Prom together. This is a major change in the course of promposal history.
Luckily, there is a witness to promposals throughout the years, PRHS Secretary Mrs. Merritt. She mentioned promposals including jumbotrons, beach setups complete with tiki torches, and custom-order pancakes.
However, she believes that this year's promposals have been lackluster compared to other years. Granted, Prom is still 2 months away and people are still trying to figure out who they would enjoy sharing Prom night with.
When deciding who to ask to Prom, an age-old question still goes unanswered; should upperclassmen be able to ask underclassmen to Prom?
Senior Lindsey Karalias believes that "freshmen should not be allowed to go" under any circumstances. Sophomores should only be permitted to attend if they are romantically involved with an upperclassman.
Karalias attended Prom her sophomore year with a friend. Now a seasoned veteran of Prom, coming up on her 3rd year, Karalias believes that "Prom should be a strictly upperclassmen thing."
Other students tend to agree with Karalias because underclassmen have their own semi-formal dance, commonly known as Spring Fling.
Once a promposal "victim" has been decided on, how should you prompose? Several Pentucket students and teachers give their input on their fantasy promposals:
Junior Marisa Labadini said she would want a sign saying "Are you dreaming of going to Prom with me?" Along with the sign, Labadini said coffee and a pillow-pet wouldn't hurt.
Chemistry teacher Mr. Goguen stated "it would depend on who was asking," but if it were his wife he envisioned her saying "We're going to the Prom." Goguen said he would reply with an adorning "Yes, dear."
Goguen's simple request contrasts the extravagance many go to nowadays. Maybe all this flim-flam teenagers go through to find a Prom date is just a fault of their over-sensitized generation… but that's a question for another day.
In the big picture, Prom is supposed to be a fun event for friends to bond. So, when planning your promposal, keep that at the forefront of your mind.
Leave a Comment