The Heelys Craze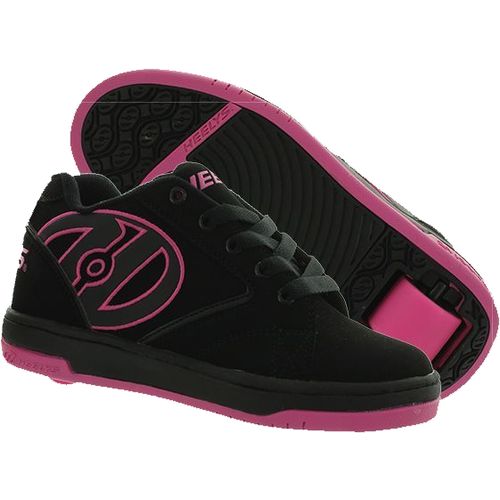 Rollin' down the school in my size fours.
Heelys are back.
If you're like Mrs. Merrit, you may have have noticed that Heelys have come out of hiding after ten whole years.
You have four people to thank for this recent phenomenon – Justice del Castillo, Kam Donovan, David Greene, and Emily Croteau. It all started one afternoon when these four students got together during video production and decided to revive the age-old Heely craze.
David Greene said the movement started when "we were watching a video about a man who has a suit with wheels on it, and one thing led to another and we all ordered a pair of Heelys."
Emily Croteau was the first to get her hands on the shoes with wheels, followed by Kam Donovan and Justice del Castillo.
David Greene also added that "people would see them 'heelying' around and they would say 'Yo are those Heelys?' And then they would say 'Heck yeah they are!'"
This spur-of-the-movement idea suddenly created a school-wide trend that led to other people like Scott Eichel, Adriana Santos, and Simon Davis going out to purchase their own pair.
However, Simon Davis was not physically able to purchase the shoes at all.  He shared his thoughts on the shoes and said "There's something I want and I have been asking for since elementary school, and now that they are making a comeback I want to get on board before the prices skyrocket."
Pentucket Junior Scott Eichel is a well-known "Heely-wearer" here at Pentucket, and many students marvel at how well he rides them.  
Simon Davis said, "Scott's Heelys are awesome, he's really good at them."
Sophomore Matt Maloney also added that "I like Scott's Heelys, he wore them to Symphony Hall in Boston so that was pretty cool."
Pentucket students were asked their opinions on the recent Heely rebirth, specifically those who do not own their own pair.
Senior Beebe Jackson shared her input and said, "I have no idea where they came from or why they came back."
While fellow senior Ian Sands describes the Heely craze as "a revolution."
Pentucket Sophomores seemed to be enthusiastic about the sudden craze that had been created.  Sophomore Madi Chute said, "I am excited, I hope it spreads."  
Sophomore Bryssa DosSantos exhibited her passion for Heelys when she said, "I would wear them every single day to school. I would buy them in every single color of the rainbow and then I would be happy."
Obviously, Heelys have made quite the impression at Pentucket Regional High School thanks to Justice, Kam, David, and Emily.  From Video Production class, to the halls of Pentucket, Heelys have made their mark on the student body.
Who knows what other trends will roll through Pentucket?  
We'll just have to wait and see.
Leave a Comment