Are Crocs Back in?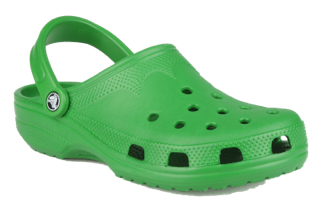 Are Crocs, the 2007 fashion craze, back in style? Well, some might say they were never out.
Crocs: possibly the fastest shoe trend to ever come into popularity. The company has even expanded their business by making Croc boots, Croc sandals, Croc heels, Croc sneakers, and various other styles and colors of shoes. Anything that your feet could desire, Crocs has made.
So why shouldn't Crocs make a comeback? They may be slightly uneasy on the eyes to some, but they are easy to put on and definitely a fashion statement.
Sophomore Alanna Joachim strongly believes that "Crocs are obnoxious and people who wear them in public are too. They're really ugly, and I don't see why anyone would spend money on plastic holey shoes. It's like wearing shoe-shaped colanders. If you truly believe that Crocs look good, then I advise you to reconsider your life choices." Ouch, Alanna. If you wear Crocs be careful not to let Alanna Joachim see, or she's going to "judge you."
Another sophomore, Hayley Palermo, says, "I don't mind them that much and I think they could make a comeback."
"I don't think they should make a comeback. They never should have been a thing. Crocs are more of a comfort thing, they're comfortable but ugly. There's a lot of pros and cons-actually, one pro and at least 10 cons. So don't wear them. Please. Ever" says sophomore Melina Demokritou.
To conclude, Crocs are definitely making a comeback, as people are talking about how they shouldn't make a comeback. Any press is good press in the non-stylish shoe industry.
Leave a Comment