Write Me a Letter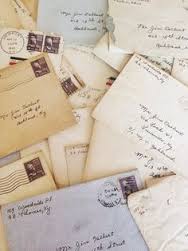 Dear readers,
If you are among the majority of teenagers, the last letter you wrote by hand was a thank you note to your grandmother in 2008. The majority of teenagers in this day and age do not even know how to properly format a friendly letter. However, 90% of Pentucket students said in a recent survey that the idea of sending and receiving handwritten letters appealed to them. Could this old-school custom be a resurfacing trend?
In recent years, technology has changed interpersonal communication: the rise of emails and text messages has nearly led to the demise of handwritten friendly letters. In today's day and age, people of all ages are more likely to send a text message or email than to sit down and write a note. These methods of communication are preferred by many due to the instantaneous nature of online and cellular technology.
However, some say that technology and communication via text has diminished the art of conversation.
"We substitute human emotions with punctuations and emoticons, hoping somehow they could substitute our sensibility and taste and convey the nuances of our lives," professes Andrew Lam in an article for the Huffington Post.
Handwritten letters, however, can be a more personal way for friends and family to communicate when they are not together. For one thing, they are generally longer and more thoughtful than a text message. They also tend to have a central purpose, rather than a text that says, "What's up?"
Here's another thought: what if the modern technology we have today is someday obsolete and unable to be opened? If our phones and computers stop working in the upcoming centuries, our texts, emails, and online records will be completely diminished, and our existence will not be recorded. However, letters are tangible and can historically preserve relationships between people.
When this idea was proposed to the Pentucket journalism team, a number of students professed that they did not know how to obtain a postage stamp or how much they cost. It is astounding that young people are intimidated by a practice which was second nature to our ancestors.
Stamps can be purchased at your local post office for less than 49 cents. Now you know.
Yours truly,
Melanie Adams
Source:
http://www.huffingtonpost.com/andrew-lam/the-lost-art-of-letter-wr_b_1543386.html
Leave a Comment