International Peace Day at Pentucket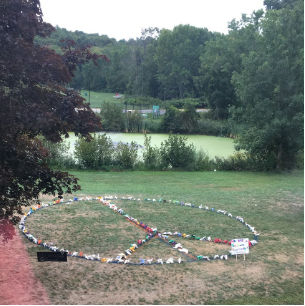 On Wednesday, September 21, the world celebrated a day of peace.  
International Peace Day has been adopted by the United Nations and has been unanimously decided a world wide day of non violent acts.
    Art and English students of Pentucket Regional School District contributed to The International Day of Peace pinwheel movement to show support.  
    Seventh grade English teacher, Mrs. Thomas, and high school art teacher, Mrs. Nadeau, decided to take part in the Pinwheels for Peace project to teach students about spreading harmony throughout their community and the world.  The project was meant to create a public statement that showered the world with creative pinwheels.  
Pentucket was determined to get involved in the project. "One class is very involved in making pinwheels that combine visuals and words that represent peace.  Students explored quotations about peace, and on each of their pinwheels my students had to have visuals about peace, quotes about peace, their own thoughts about peace, and a commitment to what they would do to add peace to the world," said Mrs. Thomas about the project.  
    Mrs. Thomas became interested in the project when Mrs. Nadeau introduced the idea to her over the summer. Mrs. Thomas decided that there were enough days connected to deaths and violence that peace should be encouraged in the lives of students.  Mrs. Thomas asks, "And what days do we have connected to celebrate peace and make people more aware of peace?"
    All students were welcome to come and build pinwheels at lunch for the project.  Mrs. Thomas praises her students'  pinwheels: "The results are thoughtful and colorful."
    Mrs. Thomas plans on continuing this project in future years: "What's more important than people thinking about peace and actions you can take to accomplish more peace in your life and in the life of others?  We should be focused on peace every year.  Every day of every year."  Interested in becoming a part of the movement next year?  Visit http://www.pinwheelsforpeace.com/ for more information.