New York Fashion Week 2016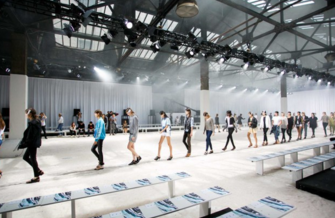 Founded in 1943 by Eleanor Lambert, New York Fashion Week is a bi- yearly, week-long festivity in early September and February featuring designers from all around the world to reveal their spring and summer designs to hundreds of fans.
One of four major fashion weeks, along with London, Paris, and Milan, New York Fashion Week featured some of the best designers in the world. Designers Cynthia Rowley, Sherri Hill, Vera Wang, and many more gathered in amazing locations to exhibit their creations.
This year's fashion week had some intriguing venues; designers set up in places such as Skylight at Moynihan Station, MADE @ Milk Studios, Skylight Clarkson Sq, and The Shop @ NYFW: The Shows.
The show this year also featured some pop-up shops, which are small retail stores set up temporarily to sell goods at certain events. Some examples of the shops at this year's event included: The Shop @ New York Fashion Week: the Shows, which was selling designer jewelry, accessories, and apparel, as well as products. Another pop up is F.Y.I. @ MADE New York, which featured items straight off the runway and also art and video products from designer labels.
Fashion week isn't just for designers though; hundreds of celebrities also made appearances to see the extravagant designs being displayed. Singers like Lady Gaga and Madonna and athletes such as Serena Williams and Simone Biles could be seen attending the show.
In the end, the shows are about presenting
fashion and designs that represent the designers and show their hard work from the year. And now that New York, London, and Milan Fashion Week are over, designers are preparing for the next phase in the fashion world, Paris Fashion Week, which started September 27, and everyone is excited for what is yet to come.
New york fashion week- September 8-15
London Fashion Week- September 18-20
Milan fashion Week- September 21-27
Paris Fashion week- September 27- October 5
References:
http://nyfw.com/new-york-fashion-week-the-shows
https://fashioncalendar.com/important-dates/
https://en.wikipedia.org/wiki/New_York_Fashion_Week