Who is Chelsea Manning?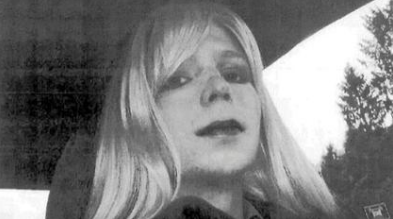 Chelsea Manning is at the epicenter of controversy concerning rights for transgender people in US prisons. This is what you need to know in order to better understand her.
Chelsea Manning is a former U.S. Soldier who exposed almost a third of a million classified war documents in early 2013. Manning, initially stationed in Iraq in 2009 as an intelligence analyst, had access to millions of classified databases.
In July of 2013, Manning, who before her sexual transition still identified as Bradley at the time, was convicted and brought to court for her violations of the Espionage Act. Violating the Espionage Act prohibits freedom of speech in terms of disloyal and abusive language towards and about the United States government. Manning was sentenced to 35 years in prison in August of 2013 and started serving that same year.
In September of this year, Manning was placed in solitary confinement for 14 days based on charges from her suicide attempt back in July, and from having an unmarked book in her cell. Manning is currently going through her sexual transition from male to female and is expected to undergo gender reassignment surgery while still in prison. She will be the first ever US prisoner to undergo any surgery like this while still serving.
Manning was diagnosed with gender identity disorder while still in the army, but didn't reveal it publicly until the day after she was sentenced in court. She is currently stationed in an all male military prison and she is set to be there for 35 years, and possible probation on her eighth year. While in court, her psychologist from the military, Capt. Michael Worsley justified her actions by saying Manning was, "left isolated in the army, trying to deal with gender-identity issues in a "hyper-masculine environment.'" The day after her sentencing, her attorney released this statement on TODAY on August 22, 2013
"As I transition into this next phase of my life, I want everyone to know the real me. I am Chelsea Manning. I am a female. Given the way that I feel, and have felt since childhood, I want to begin hormone therapy as soon as possible. I hope that you will support me in this transition. I also request that, starting today, you refer to me by my new name and use the feminine pronoun (except in official mail to the confinement facility). I look forward to receiving letters from supporters and having the opportunity to write back"
Although it is known that often times for trans women living in all male prisons there are cases of unwanted sexual attention from other inmates, Manning is not yet allowed to have her surgery or grow out her hair. An exact date for her reassignment surgery has not yet been arranged but it is likely to occur closer to her eighth year, on her possible year of probation.  It is a complicated and intense process, and many protest for her and her case so she can be put into a female prison. Anyone who wishes to send Chelsea a letter can with a return address and a stamped envelope at:
          CHELSEA E. MANNING     89289
1300 NORTH WAREHOUSE ROAD
FORT LEAVENWORTH, KANSAS 66027-2304
Chelsea's case is constantly changing and she often updates her experience in prison on twitter @xychelsea.