Girls Soccer: Senior Night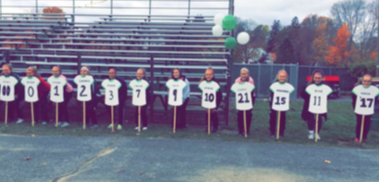 n Tuesday, October 25th, the Pentucket soccer girls had their senior night game. They played against Triton at 3:45 at Pentucket High School. Mr. Thornton, the director of athletics, announced all 11 seniors that started off the game for the Sachems.
Senior Roster (and seniors in the picture from left to right):
#00 Emma McNeil – goalie
Erica Burton, who video tapes all of our home games and even some away games, and is considered a teammate to all of the girls.
#10 Sterling Seymour – outside mid/ striker
#2 Leah Wyner – striker
#5 Lisi Fijux – striker
#15 Lindsey Procurot – outside back
#21 Katie Giusti – mid/ outside mid
#7 Julia Wyner – outside mid
#0 Ashley Riter – goalie
#1 Morgan Zanardi – center mid
#11 Emma Rice – outside mid
#9 Alex Reid – striker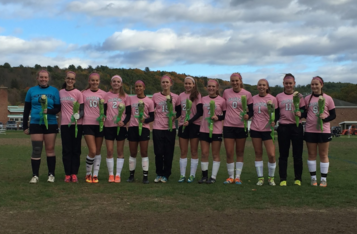 The seniors were given flowers, supplied by parents and the Pentucket soccer boosters, before the game. Posters were hung up for each senior with special messages from underclassmen saying all of the wonderful things about the seniors and how they will be greatly missed.
Their coaches, Kayla Grover and Jess Bushee, and parents met them at half field to take a picture before the game started. Following the ceremony, the game began.
After a long, hard battle between the two rivalries, the Sachems came out with a 2-1 win against the Triton Vikings.