The Essentials Collection: Walk The Line(2005) Film Review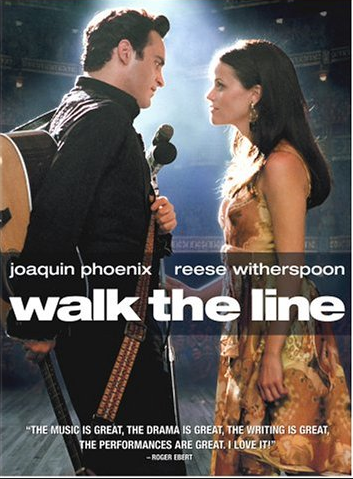 James Mangold's Walk the Line chronicles the rise of country singer sensation Johnny Cash as he struggles to find personal meaning and happiness in a world of doubt. It is the story of one man who loses his way, but finds redemption through the guiding presence of the one woman who can truly save him. It is about overcoming the impossible, finding your way, accepting love, and the bond that binds fathers and sons.
The film spans 24 years, detailing Johnny Cash's life from a young boy to the pinnacle of his career, while at the same time showing his downfalls and most vulnerable life experiences. The Man in Black is portrayed by actor Joaquin Phoenix who gives one of the greatest performances of his career. He becomes Cash on the screen and is able to show who this iconic figure really was. He plays him not as a good or bad guy, but as a man susceptible to the faults that make him a human being.
Sharing the screen alongside Phoenix is Reese Witherspoon as June Carter, the love of Cash's life that he just can't have. With explosive chemistry on the screen, these two actors create one of the most enticing love stories in cinema history.
The drama in Walk the Line is raw and powerful in a way that makes the audience forget that they are watching a movie and not actually sitting there with these characters. The heartbreak is real on the screen and it doesn't spare the viewer. If you've seen the film, then you know that the Thanksgiving scene between Cash and his father (Robert Patrick) is a highlight for both of them in their careers as they give a tour de force performances that make the experience even more real for the audience. You believe that these two men are father and son and are both tortured by their inability to accept one another due to a tragic past.
The story behind the film is just as triumphant as its eventual outcome. A passion project for director Mangold as well as many others. Joaquin Phoenix, dedicated years to learning to play the guitar and sing like the legendary musician he was expected to live up to. And his delivery does not disappoint. After seeing this film it is impossible to not see Phoenix when thinking about Johnny Cash. You cannot forget his voice, nor would you want to. There is not a weak link in the chain that is Walk the Line and the cast and crew involved in bringing it to life should be commended for creating something truly timeless. It is an instant American classic.
Director: James Mangold
Writer(s): James Mangold, Gill Dennis
Starring: Joaquin Phoenix, Reese Witherspoon, Robert Patrick, Ginnifer Goodwin