Music Streaming: How Do They Make Money?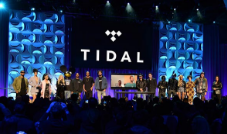 Artists' work is available for free for us to enjoy on music streaming services like YouTube and Spotify, but you may wonder how the artists on these sites make money when their music is being given away. Tidal, the music streaming service owned by Jay Z, attempted a different approach, but they are losing money. How could this happen?
Spotify:
Spotify retains 30% of the revenue a song makes, while the other 70% is given back to the rightsholder. That 70% is distributed among the artists based on the popularity of their song. There are many factors that determine how much money one song receives: The country which the song was streamed from (different countries sell different amounts of advertising), the number of listeners with a paid membership (Spotify Premium), the price of premium in that country, and the artist's royalty rate.
Spotify's main goal is to reduce the number of pirated songs so that artists make more money. Since advertising does not bring in as much money as premium subscribers do, their second goal is to convert users to a premium subscription. The number one album on Spotify makes upwards of $400,000 per month.
Youtube:
Similar to Spotify,  YouTube makes money for its artists through advertising. Ads make about $2 per 1,000 views. Baauer's "Harlem Shake" made almost $400,000 when people set cover videos to the song. He put ads before unrelated videos that had his song in the background and took the money from those ads. Artists can also add annotations to their videos to promote their merchandise. P!nk made roughly $4.5 million in sales for her song "Just Give Me a Reason" by adding a link to the Itunes, Amazon, and Google Play stores where fans could buy the song for $1.29.
Tidal:
Jay Z bought Tidal in 2015. Before this, Tidal was called Aspiro. In 2010, Aspiro created a music streaming network called WiMP. It was called Tidal in the U.S. because they did not think anyone would buy "WiMP." In 2014, Aspiro was "not fully funded for the coming twelve months," so Jay Z purchased Tidal for $56 million.
Tidal was launched on March 30, 2015. All the big-time artists that invested in the company (including Kanye West, Rihanna, Beyonce, Deadmau5, and many more) joined Jay Z on stage. They did not know, the company would struggle from then on.
Tidal releases music exclusives of albums from prominent artists. Rihanna's album, "Anti" was released a week early as an exclusive on Tidal, causing the app to jump to No. 16 on the app store. There is a free, thirty day subscription when you first sign up, and many people use this to listen to the exclusive releases.
The most notable exclusive was of Kanye West's album, "The Life of Pablo" in February 2016. His album was illegally downloaded 500,000 times on the first day (it would have gone gold if he sold it through iTunes). He wrote, "My album will never never never be on Apple [a]nd it will never be for sale. You can only get it on Tidal." He did put the album on other music services in April, and a fan sued him for "fraudulently inducing customers to subscribe to Tidal." It was later dismissed.
Beyonce's album, "Lemonade" was unexpectedly released on Tidal in the spring of 2016, and the app rocketed to no. 2 on the App Store.
The regular exclusive releases certainly help improve the company, but Jay Z is losing money, because his service does not create loyal customers. Tidal claims to have 900,000 people subscribed to the service, but analysts suspect that these users will delete the app after they are forced to start paying the minimum $9.99 subscription (Their "HiFi" option costs $19.99).
People think that Jay Z is not working to improve music-streaming, and that he is only looking to get richer. What do you think his motives are?
Sources:
http://www.rollingstone.com/music/news/seven-ways-musicians-make-money-off-youtube-20130919
https://support.tidal.com/hc/en-us/articles/201745891-How-much-does-TIDAL-cost-
http://www.businessinsider.com/history-of-jay-zs-tidal-music-streaming-service-2016-8/#the-latest-rumors-around-tidal-were-sparked-by-a-series-of-tweets-from-kanye-west-that-suggested-apple-was-at-one-time-interested-in-buying-tidal-but-had-dragged-its-feet-apple-give-jay-his-check-for-tidal-now-and-stop-tying-to-act-like-you-steve-jobs-he-wrote-this-tidal-apple-beef-is-f-up-the-music-game-34
http://www.forbes.com/sites/hughmcintyre/2016/09/18/why-does-nobody-want-to-buy-jay-zs-tidal/#324746cf5583