Not A Joking Matter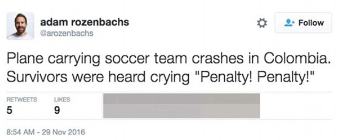 On Monday Nov. 28, 2016, the Brazilian soccer team Chapecoense crashed into the side of a Mountain in Colombia. Seventy-one of the passengers were announced dead, while only six have survived as of now. The team was on their way to a championship game versus Colombia's Atletico Nacional team when the tragedy occurred. The official reason the plane failed is unclear, but investigators have started to consider fuel starvation as a contributing factor.
Just a few moments after the crash was reported, comedian Adam Rozenbachs made a harsh joke on twitter about the incident. He wrote in his post "Plane carrying soccer team crashes in Colombia. Survivors were heard crying 'Penalty! Penalty!'"
Other tweeters quickly shot back at the comedian by stating how rude and "disgraceful" (@ZlatOnPitch) he was for making such light in a crisis.
@Casson8_ wrote, "pathetic & pity. Really ignorant of the situation in which 86 died. There were also civilians as well as the soccer team."
Only a few hours later, Rozenbachs took to twitter apologizing for his previous tweet, "Apologies for last tweet re: soccer players. Saw a headline and didn't realise the gravity of the situation. Lesson learned."
@James_M_Perry tweeted back at him, "this is why we read articles before making jokes," in order to emphasis the wrongness of his previous tweet.
This is not the first time that someone has posted jokes on social media immediately after a tragic situation. In 2013, directly after the Boston bombing occurred, Anthony Jeselnik tweeted, "There are some lines that just shouldn't be crossed today. Especially the finish line." This tweet also raised controversy among twitter forcing Jeselnik to take it down later in the day.
It is not uncommon for comedians to turn a serious situation into a joking matter especially those that include the deaths of others, but is it ever justified?