Teen Coffee Drinkers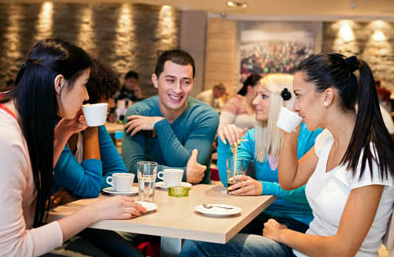 Every morning when I walk into school, almost 75% of the students are holding a coffee. As a student who participates in morning coffee, I find this normal. But if I take a step back I must wonder, is it healthy?
According to livestrong.com, most teens drink about 400mg of coffee a day. This is at the max of the scale of how much a "healthy" amount is. Anywhere over 400mg can start to be a problem. The excessive caffeine can give teens stomach upsets, agitation, increased heart rate, anxiety, muscular tremors and insomnia, according to MayoClinic.com. It also worsens when teens drink coffee and energy drinks in the same day.
Even though some of us are drinking "healthy" amounts of coffee, others are beginning an addiction. If teens drink coffee regularly and suddenly stop, they will feel some withdrawal, according to livestrong.com. Symptoms of this include achy muscles, headaches, fatigue, sadness, vomiting and impaired mental focus. However, if one does not drink coffee for nine days these symptoms should wear off.
Teenagers are starting to drink coffee at earlier and earlier ages. However, there is no easy way to stop this. The only real solution to teenage coffee addiction is moderation, or the avoidance of excess. If we keep it all in moderation, we will hopefully be able to stay healthy while staying awake!