Pentucket has a New Source for Student Generated Content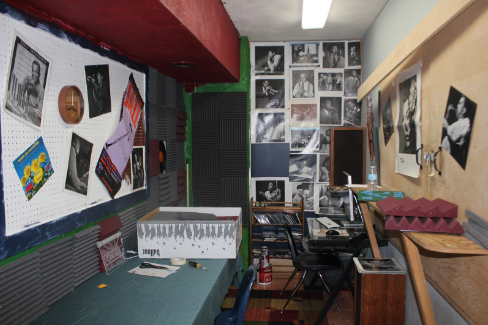 The Pentucket Profile  will soon not be the only way for Pentucket students to connect with each other. Starting this fall, the Profile will take on another platform for students.
In 2015, Pentucket Radio was started by former Pentucket music teacher, Mr. Beatrice, who is now the Director of Music and Performing Arts for the Boston Public Schools. The radio's original purpose was to provide a place for students to listen to music and school information. The radio's launch was on June 17, 2015, but some can imagine that the summer played a big part on the radio's start. "I really did not know what to anticipate before the launch," Beatrice said in an interview via email. "It was a lot of wondering, researching, and realizing it was really uncharted waters for a high school."
During the 2015-2016 school year, the radio station hosted the Pentucket Battle of the Bands. This competition encouraged the musical students of Pentucket to band together, literally, and compete against each other for a spot in Newburyport's Yankee Homecoming Battle of the Bands. Pentucket Radio also played "student-generated music," as it says on pentucketradio.com, the radio station's website. "A goal [of the radio station] was to have a space for student generated music to be highlighted," Mr. Beatrice told the Profile.
The 2016-2017 school year seemed to be the stop of Pentucket Radio. Mr. Beatrice explained that this occurred because of difficulties with online services used to produce the radio station. "We developed a list of potential free [services] and ended up with one that we used for a few months and then realized it would automatically cancel the account if you did not have thousands of listeners joining in," Mr. Beatrice said.
Soon, however, Pentucket Radio will be revived, as English, journalism, and graphic novel teacher Ms. Lukianov has been named the new advisor of the radio station. She hopes to make the radio station, "a way for students throughout the school to be able to contribute in some way creatively."
"[The Pentucket Profile] hopes to integrate the radio station so that we have another format for letting student content be heard. We want to produce podcasts… students have a lot of interest in producing podcasts on news topics, sports, music," Lukianov said. She also points out that many other classes are making podcasts as another way to present projects. "It's really a tool to express everything that's already going on at the school, everything great that students are already doing."
Pentucket Radio looks forward to its launch date, which is soon to be announced. Ms. Lukianov is looking for student-generated content, either podcasts or music. If you are interested, see Ms. Lukianov in room 106.