California Wild Fires
California is in a state of emergency with one of the deadliest wild fires in California history. The fires are taking place in parts of Northern California, primarily Wine Country. As of Monday October 17th, there has been 42 deaths and hundreds of people are missing. Thousands of homes and buildings are destroyed, and this wild fire has exceeded the number of deaths since the 1933 Griffith Park fire in Los Angeles.
More than 8,000 officials are trying to combat the fire, which has been burning since Friday morning. Firefighters from San Diego all the way to Oregon are helping to try to control the fires. There is a state of emergency for Napa, Yuba, and Sonoma counties in California.
As of Tuesday, 68 people in Sonom
a County have been unaccounted for down from 400 last week. As of last Thursday, 7000 people in Napa county currently do not have power. In such a terrible time people have been arrested because they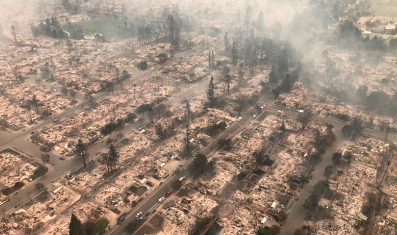 were looting the evacuated areas. One of the looters was from the area, and was found with two stolen bikes and narcotics. People have also been dressing up as firefighters and telling people that they need to evacuate, then robbing their house.
The governor, Jerry Brown, said at anews event last Wednesday, "We have had big fires in the past. This is one of the biggest, most serious, and it's not over."
A lot of wine country has been destroyed, burning many of the buildings and wineries around the area are now gone. Most of the deaths are elderly people and the average age of death is 79. The fire has been contained, but the death toll still is expected to rise.  The main problem now is where people are going to stay because now that the fires are put out, many people are homeless.
The economic impact of this fire is upwards to 70 billion at this time. This fire truly lives up to its name as the worst fire in California history.