Behind The Brain: Aaron Hernandez
NFL tight end Aaron Hernandez, played for the New England patriots for three seasons. His career came to an abrupt end. He was arrested and sentenced to jail for life, without parole, for the murder of Odin Lloyd. Following his fourth year in prison, he was found in hanging by a bed sheet in his cell, on April 19, 2017.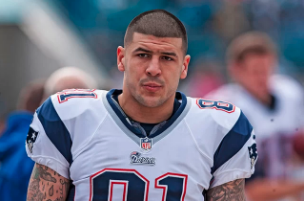 The murder of Odin Lloyd was not Aaron's only crime. In 2007, he got in a bar fight with an employee, after refusing to pay the bill. He was also investigated in a double homicide in 2007 and involved in doing drugs throughout his life.
CTE, also known as Chronic Traumatic Encephalopathy, is a degenerative brain disease commonly found in athletes, military, veterans, and others with a history of repetitive brain trauma. It is when a protein called Tau, forms clumps that slowly spreads throughout the brain, killing brain cells. This is very common in professional football players, in fact, according to CBS Sports, a total of 87 out of 91 pro football players were found to have the disease.
After the autopsy on Hernandez's brain, it was discovered that he was living with severe stage III CTE. Houston Press says," Hernandez's brain released as part of the lawsuit is chilling, with enough deposits of tau protein, a heavy CTE indicator, that it looks as if somebody had kicked dirt all over the cross sections of hernandez's brain." He had so much tau protein in his brain that the amount was usually seen in a median age of death of 67 years, hernandez is 27.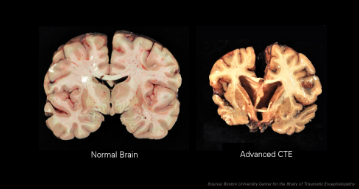 CTE has many signs and symptoms. People suffering from the disease may experience symptoms such as problems with thinking and memory, confusion, impaired judgement, potentially dementia, impulsive behavior, suicidal thoughts, and depression. All of these symptoms could potentially be one of the reasons why Hernandez murdered Odin Lloyd and committed suicide, although it is definitely not an excuse.